What's Open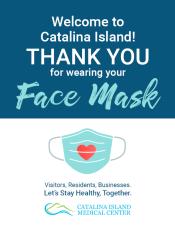 The health and safety of visitors to and residents of Catalina Island, is our number one priority.
Southern California is now under a regional Stay at Home Order, effective 12/6/20. Many Island businesses, parks, harbors and beaches are open, some with limited service. Los Angeles County health orders are in effect on the island including social distancing and face coverings, enforced by the LA County Sheriff. Non compliance may result in a $100 citation. 
We recommend verifying any activity or business' status directly with the business. Please be advised that to accommodate for social distancing, most activities require advanced reservations. Please inquire with the individual business about their policies. The State of California has also provided a resource guide available here. 
TRANSPORTATION TO CATALINA
Catalina Express is operating daily service from Long Beach to Avalon (Service from Dana Point to Avalon and San Pedro to Two Harbors has been temporarily suspended). The Catalina Flyer from Newport has temporarily suspended service (through 2/26/21). IEX Helicopters is available with daily flight service to the island, 7 days a week. Find out more about Getting to Catalina Island or Getting Around Catalina Island. 
Catalina Express Travel Alert: Due to the latest LA County restrictions, the LA Public Health Department has directed Catalina Express to close onboard galleys as well as prohibit the consumption of personal food and beverage items brought on board. Catalina Express continues to require everyone wear their mask while in the terminal, waiting to board and the entire trip on the vessel. Commodore Lounge seating that has been booked will be refunded upon checking in and treated as general seating until further notice.
RESTAURANTS
Island restaurants are open and available for take out.* View a list of Open Restaurants with links to view menus and phone numbers for call ahead ordering. (*As a result of a new LA County public health order, restaurants may only serve take out.)
RETAIL, SERVICES & ACTIVITIES
Our services and retail shops are open, as well as some recreational activities. Most activities and tours require advance reservations. View a list of things to do as well as the hours of Open Retail, Services & Activities.
CAMPGROUNDS
Campgrounds and camping services are closed.
HOTELS & VACATION RENTALS
Hotels and vacation rentals are open for essential travel.
AVALON MOORINGS
Avalon moorings are open. The fuel dock is open daily - hours may vary. Contact the Avalon Harbor Department for more information, 310-510-0535 or VHF Channel 12. Shoreboat/water-taxi (VHF Channel 9) available from 8am-10pm Sunday-Thursday and 8am-midnight Friday & Saturday.
TWO HARBORS & WEST END MOORINGS
Moorings at Isthmus Cove, Cat Harbor, Fourth of July Cove, Cherry Cove, Hen Rock, White's Landing, Moonstone, Emerald Bay, Howland's Landing, Little Geiger and Buttonshell, will be available on a first-come, first-serve basis. Reservations can be made for weekend moorings. The online reservation system opens on Thursday evenings at 8 PM and will be available until the following Monday. This system can be used for the coming weekend only.  Mooring info. 
TRAILS
Catalina Island hiking trails are OPEN.
Please visit the Conservancy website for new safety guidelines and additional updated information.
Hiking without a face mask is permitted except if you are within 6' of a non-family member or someone with whom you are not currently quarantining; appropriate social distancing is required.
Please follow all current LA County guidelines, found here.
BEACHES
All Catalina Island Beaches are OPEN.
Chairs, canopies and coolers are allowed on the beach (no alcohol or pets). 
Fishing is NOT allowed on any of Avalon's beaches. 
Face coverings required out of the water & around others, except for infants/children under age 2.
Six feet (or more) of physical distancing will be required between individuals outside of the same household.
NO: group sports (such as Volleyball), gatherings or events.
List of LA County's "Beach Rules"
AIRPORT IN THE SKY
Catalina Island's ACE Clearwater Airfield at Airport in the Sky is open to all aircraft. 
Wildlands Express offers limited service between Avalon & Little Harbor (No service to Two Harbors). For reservations contact: 310-510-0143. 
DC Gifts & Grill at Airport in the Sky is temporarily closed.
THE TRAILHEAD & WRIGLEY MEMORIAL AND BOTANIC GARDEN
OPEN.
CASINO POINT DIVE PARK
OPEN. 
CHURCHES
Check with your place of worship to find their outdoor service schedule.
---