Taste Around Avalon
May 30, 2024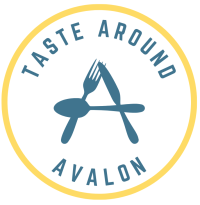 Enjoy the most scrumptious tastes of delectable food & beverages at Avalon's finest dining establishments. Sip, Sample and Savor your way through town, and then vote for your favorite "Tastes" of food, drink and dessert as the Best Taste of the Year!
Winning establishments are awarded $100 each plus bragging rights for the next year!
This is the official kick-off to Avalon Restaurant Week, May 31 - June 6, 2024. See below for this year's winners plus more information on how the event works. 
2023 Taste Around Avalon Participants
Antonio's Pizzeria & Cabaret - Food: Meat on the Baston, Drink with Alcohol: Limoncello Lemon Drop
Avalon Grille - Food: Wagyu and BBQ Pastrami Slider, Dessert: Profiteroles/Pastry Cream & Chocolate Glaze, Drink with Alcohol: Apres Beach Colada
Bluewater Avalon - Food: Ponzu Scallops, Drink with Alcohol: Captain's Mai Tai
Cafe Metropole - Drink without Alcohol:  Green Pier Cold Pressed Juice
Catalina Cantina Jr. - Food: Quesabirria Tacos & Potato Taquitos, Drink without Alcohol: Aqua Fresca, Dessert: Churro Bread Pudding
Catalina Island Brew House - Drink without Alcohol: Pomegranate Raspberry Mojito Green Tea, Dessert: White Chocolate Coconut Bar
Cork & Brew at Hermosa Hotel - Drink with Alcohol: Hermosa Mini Wine Flight
Coyote Joe's - Food: Soyrizo or Chorizo Con Papas Taco, Drink with Alcohol: Starbucks, Drink without Alcohol: Tamarichoy, Dessert: Quesillo
El Galleon - Food: St. Louis Style Bbq Pork Ribs with Panko Onion Rings, Drink with Alcohol: Red Bull Watermelon Margarita
Encanto Cafe at Island Spa Catalina - Drink without Alcohol: Strawberry Jamaica Agua Fresca
Flx Biergarten - Drink with Alcohol: Stone Buenaveza Michelada
Lloyd's of Avalon Confectionery - Dessert: Banana Split Sundae
Luau Larry's - Food: Fried Artichoke Hearts, Drink with Alcohol: Spicy Pickle Pop
Maggie's Blue Rose - Drink with Alcohol: Organic Dulce Agave Margarita
Original Antonio's Pizzeria & Deli - Food: One Slice Pepperoni Pizza ($2.50), Drink without Alcohol: Draft Abita Brand Root Beer ($1.50)
Sailor's Delight Ice Cream Shop - Dessert: S'more to Love Mini Waffle Cone
Scoops Catalina Creamery & Airport in the Sky Restaurant - Dessert: Killer Cookie Ice Cream Sandwich
Steve's Steakhouse - Food: Chicken Picatta
The Naughty Fox - Food: Stuffed Clams & Catalina Hot Chicken Slider, Drink with Alcohol: Chili Mango Margarita & Cucumber Lemonade Vodka
The Pancake Cottage - Food: Chicken & Waffles
Three Palms Bar & Grill - Food: Mexican Pizza & Jalapeno Poppers
---

How It Works
Purchase a Voting Card
Each person sampling "Tastes" must purchase a Voting Card 
Advance Purchase - Wednesday, May 31: $2 per card
Event Day - Thursday, June 1: $3 per card
Voting Cards will available at the Love Catalina Visitor Center on the Green Pleasure Pier before the event, and on Wrigley Stage during the event from 5-9pm. We recommend you avoid the line during the event and buy your cards at the Visitor Center early! 
Meet at Wrigley Stage at 5pm
For a brief welcome by Love Catalina Island along with an overview of how the events works. 
Sip Sample & Savor! 
Stroll through town & visit each participating establishment. 
Sample all of their "Tastes" in four categories (typically $1-$5* per "Taste") including:
Appetizers/Main Dishes
Sweets & Treats
Cocktails
Non-Alcoholic Beverages
*Local Tip 
Be prepared with approximately $20-$40 in ones or small bills, as many restaurants may run out of change as the evening progresses!
Vote for your favorite "Taste" in each category 
Establishments with the 4 Best "Taste" Winners are awarded $100 each! Tasters that turn in their completed Voting Cards are entered in a bonus drawing with a chance to win a $50 Catalina Island Gift Certificate. Voting Cards should be turned in by 9:15pm at Wrigley Stage at the conclusion of the event. 
Event sponsored by Love Catalina Island Tourism Authority.
2023 Taste Around Avalon Winners
Cocktail (Drink with Alcohol)

1st: Maggie's Blue Rose - Organic Dulce Agave Margarita
2nd: Avalon Grille - Apres Beach Colada
3rd (tie): The Naughty Fox - Cucumber Lemonade Vodka
3rd (tie): Bluewater Avalon - Captain's Mai Tai
Non-Alcohol Drink

1st: Catalina Island Brew House, Pomegranate Raspberry Mojito Green Tea
2nd: Cafe Metropole, Green Pier Cold Pressed Juice
3rd: Catalina Cantina Jr., Agua Fresca
Food

1st: Catalina Cantina Jr., Quesabirria Tacos & Potato Taquitos
2nd: El Galleon: St. Louis Style BBQ Pork Ribs w/ Panko Onion Rings
3rd (tie): Steve's Steakhouse & Seafood, Chicken Piccata & Cauliflower Steak
3rd (tie): Avalon Grille, Wagyu & BBQ Pastrami Slider
Dessert

1st: Sailor's Delight, S'more to Love Mini Waffle Cone
2nd: Catalina Island Brew House, Coconut White Chocolate Bar
3rd: Scoops Catalina Creamery/Airport in the Sky: Killer Cookie Ice Cream Sandwich