Responsible Beverage Server Training
Responsible Beverage Server (RBS) Training: Ongoing training classes (typically 2x's per month) held online via zoom. Visit CentralCoastRBS.com for more information and to see upcoming training course schedule. 
Use promo code CatalinaVIP to receive a discounted rate of just $29 per person (regular $34).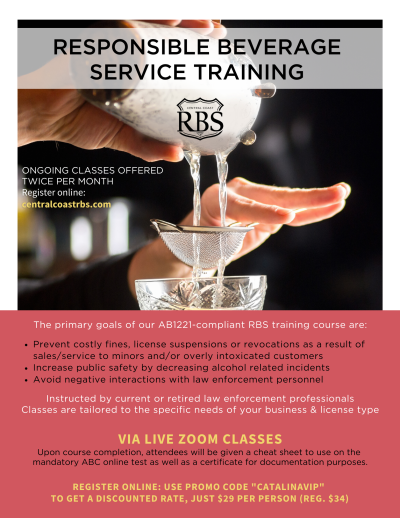 $10 Off Catalina Island Ferry
Hop onboard the Catalina Flyer for daily ferry service from Newport Beach to Avalon, Catalina Island in just over 1 hour.
Online reservations are now open!
A sparkling night of evening gowns, tuxedos, champagne, dining and dancing on Sunday, December 31 in the world-famous Casino Ballroom.