Avalon Restaurant Week
2022 Avalon Restaurant Week
June 3-9, 2022.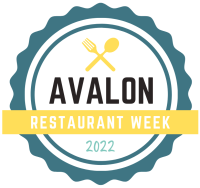 Now in its 9th year, some of Avalon's most popular restaurants are ready to dish up mouth-watering food during Avalon Restaurant Week. 
Join us for a foodie celebration from Friday, June 3 through Thursday, June 9 to indulge in a variety of specially created dishes and menus.
Come out and Taste More of Avalon!
2022 Restaurant Week Participants & Menus
Antonio's Pizzeria & Cabaret
230 Crescent Ave.
310-510-0008
Lunch 
Italian Sandwich and Soda - $20
(Cooked Ham, Provolone Cheese, Salami, Pepperoni, Lettuce, and Roma Tomato, Lightly Drizzled with Extra Virgin Olive Oil and Vinegar, tossed with Italian Dressing, served on a Toasted Italian Roll)
Dinner
Cup of Italian Wedding Soup + Spaghetti with Chicken Parmigiana - $30
Avalon Grille
423 Crescent Ave.
310-510-7494
Dinner
Duo of Ahi Tuna Tartar & Coconut Shrimp + Soyrizo Taco - $40 (Soyrizo & Yukon Potatoes, Hibiscus Flowers, Cilantro Slaw, and Fresh Salsa De Arbol, side of Guacamole, served on a Toasted Hybrid Tortilla)
Coyote Joe's
113 Catalina St
310-510-1176
Lunch
Birria Tacos - $10
El Galleon
411 Crescent Ave
310-510-1188
Lunch + Dinner
St. Louis Style BBQ Ribs
1/2 Rack - $20
Full Rack - $30
Eric's on the Pier
2 Green Pleasure Pier
310-510-0894
Lunch
Buffalo Balls & a Beer - $15
Luau Larry's
509 Crescent Avenue
310.510.1919
Lunch
Cheeseburger in Paradise, Fries & Soft Drink - $10
Mrs. T's Chinese Kitchen
120 Catalina Ave
310-510-1199
Lunch
1 Free Egg Roll w/ any order of an individual bowl, one item combo or two item combo
Original Antonio's
114 Sumner Ave
310-510-0066
Lunch + Dinner
Gluten Free Fettuccini Alfredo w/ Spinach & Salad - $18
Gluten Free Margherita Pizza w/ Mozz, provolone, tomato sauce, basil, fresh tomatoes & garlic - $15
Original Jack's Country Kitchen
118 Catalina Ave
310-510-1308
Breakfast
Chilaqiles - crisp corn tortillas w/ egg, tomato sauce, cojita cheese, choice of chorizo or chicken & side of refried beans - $15
Lunch
Impossible Burger (plant based) grilled on a brioche bun w/ frites or onion strings w/ cheese, lettuce, tomato & 1000 Is Dressing - $15
The Naughty Fox
111 Crescent Ave
310-510-0555
Lunch
Lobster Toast with Avocado Butter - $20

Dinner
Seafood Ramen with Homemade Noodles - $40
Taste Around of Avalon
June 2, 2022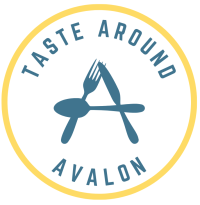 Join us at this increasingly popular annual event and enjoy the most scrumptious tastes of delectable food & beverages from 5pm-9pm at some of Avalon's finest dining establishments. Vote for your favorite "Tastes" of food, drink and dessert as the Best Taste of the Year! Winning establishments are awarded $100 each plus bragging rights for the next year!