Camping, Camps & Gear Haul
Catalina Island camping is a rugged, fun adventure for the experienced traveler.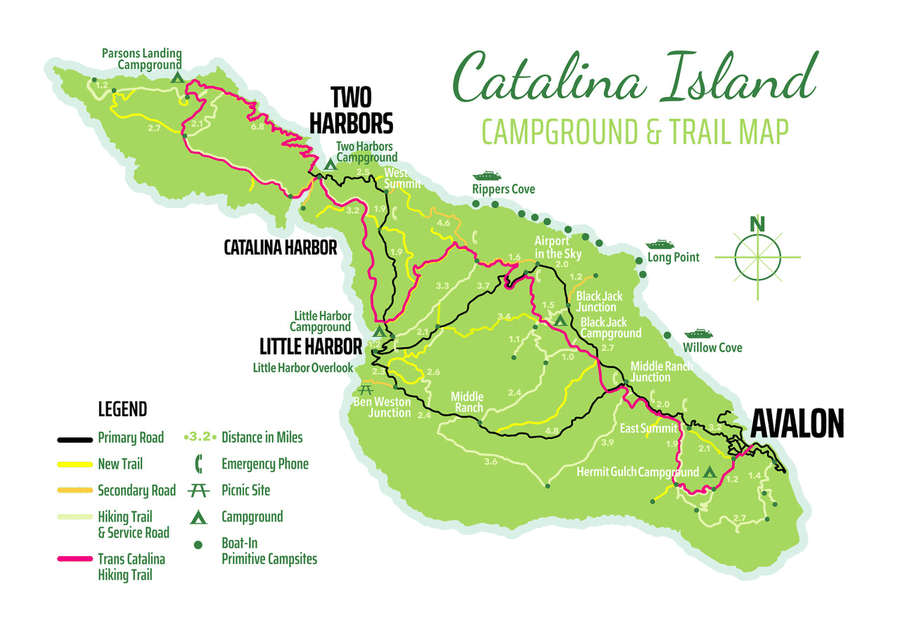 Did you know that camping is one of the best ways enjoy a natural, outdoor experience on the island? Catalina Island offers family camps, five campgrounds as well as seventeen primitive boat–in only campsites at locations between Two Harbors and Avalon.  The island offers camping accommodations for individuals and families with a variety of amenities.

You can even rent camping equipment on the island and have a company set it up at your site for you. All you have to do is show up.  Camping on Catalina Island can be one of the most memorable outdoor experiences you've ever had!  
Download Camping & Hiking Map

CAMPGROUNDS & CAMPSITES
Hermit Gulch Campground - Avalon
Located on Avalon Canyon Road approximately 1.5 miles from the Avalon boat landing. BBQ pits (no wood fires), picnic tables, coin operated showers/lockers. Tent cabins, rental tents and equipment available. Some camping supplies for sale at campground office. Avalon Transit bus service from downtown Avalon.
Black Jack Campground - Remote Catalina Interior
Nestled among pine and eucalyptus trees near Mt. Orizaba within Catalina's inland. At 1,600 feet above sea level, the campground provides eleven campsites. The trailhead (1.5 mile moderate hike) for the campground is 9 miles from Avalon and 11.8 miles from Two Harbors.
Little Harbor Campground - Remote Catalina Interior - Windward side - Beachfront
Located about 7 miles east of Two Harbors and 16 miles from Avalon. Little Harbor is a sandy, beachfront campground located on the "backside" of Catalina with lots of opportunities for recreation. 23 campsites are available. Accessible from either Two Harbors (25 min) or Avalon (1.5 hrs) by car/taxi or by biking or hiking.
Parson's Landing - Remote West End - Beachfront
Located seven miles from Two Harbors Isthmus Cove. It's a moderately difficult hike or kayak to the remote campground, but there you will find long stretches of pristine beach with eight primitive sites. Shade structures and running water are not provided. You must pack in your supplies. BBQ, fire ring, chemical toilets.   
Two Harbors Campground - Two Harbors - Beachfront
The west-end trailhead campground, 1/4 mile from the village of Two Harbors, has 48 individual sites and two group camping areas, tent cabins that sleep up to 6, BBQ's and picnic tables. The group camping sites of Bahia Azul and Brisa del Mar can both accommodate up to 30 adults. Camping equipment available for rent, firewood, propane and charcoal available for sale.
Primitive Boat-In Campsites 
Enjoy true seclusion along the Pacific coast. 17 sites at 9 locations between Two Harbors and Avalon available by reservation for primitive camping. No moorings are available, these are anchor-in coves only. Must provide own water and port-a-potty and pack out all trash. Campfires allowed in BBQ/fire ring areas only.
CAMPING RESERVATIONS & PERMIT INFO (for all above campsites):
Book online with Book Your Site. (Please note: There is a service fee for reservations) For groups of 20+, please call: 310-510-2000 ext. 4242 or email camping@scico.com.  Camping permits are required year-round and issued upon check-in: for Two Harbors, go to the Two Harbors Visitor Center; in Avalon call the Two Harbors Visitor Center at 310-510-4205. The maximum consecutive stay is 10 days. Camping rates are per person, per night. Rates vary by season, & midweek vs. weekend.
TRAIL MAPS, HIKING & BIKING PERMITS:
Available at The Trailhead in Avalon.  The new headquarters for the Catalina Island Conservancy, the Trailhead, is the perfect starting point for discovering the island's vast interior. Stop by 708 Crescent Avenue, call 310-510-1445 or visit CatalinaConservancy.org.
CAMPING SUPPORT SERVICES
EQUIPMENT & KAYAK RENTAL
SUMMER & FAMILY/GROUP CAMPS:
---
Black Jack Campground is nestled among pine and eucalyptus trees near 2,097-foot Mt. Orizaba, Catalina Island's highest peak. Situated several miles from both Avalon and Two Harbors, Black Jack offers a tranquil camping experience in the island's interior. The campground is 1,600…
1 Gallagher's Cove

(310) 510-0015
The Only Oceanfront Christian Camp in California! Located beachfront on Catalina Island, Campus by the Sea is a popular Christ-centered camp and retreat center that has transformed lives for Christ for more than 70 years. All camps and retreats include meals, lodging, and a broad…
117 Catalina

(310) 913-9036
Your Adventure Concierge. Whether it is a naturalist led hike, comfort camping, the Trans Catalina Trail, gear haul or an adventure expedition, Catalina Backcountry is proud to offer a personalized concierge experience to our guests. Our customized services are unique to each…
Howlands Landing Cove

(626) 296-4040
Catalina Island Camps develops life-long skills through fun and unique outdoor experiences in a community that cultivates respect for self, others and the environment. At CIC​, our programs are built around our mission and the unique marine and land environments of Howlands…
#5 Descanso Beach

(310) 510-1226
Tired of campgrounds? Try something wild! There are 17 boat-in primitive campsites at 9 beach locations between Avalon & Two Harbors accessible by private boat or kayak. NO facilities. A completely natural experience! Anchor or haul small craft ashore. NO moorings. KAYAK…
1 Toyon Bay Road

(909) 625-6194
Celebrating over 40 years of Excellence in Ocean Adventure! Summer camp on Catalina Island is a great way to spend your summer! Catalina Sea Camp offers 60+ ocean adventure and traditional summer camp activities, including scuba diving, snorkeling, kayaking, and sailing, to name…
Avalon Canyon Road

(310) 510-2000
Hermit Gulch Campground is Avalon's only camping facility located within city limits. The campground is situated in Avalon Canyon near the Nature Center and the Wrigley Memorial and Botanical Garden. The campground offers a nice view of the surrounding hills that are home to a…
Little Harbor

(310) 510-4205
Rated "One of the Best Campgrounds in the West" by Sunset Magazine, Little Harbor Campground is perfect for campers who enjoy playing on the beach or in the water. Located about seven miles east of Two Harbors and 16 miles from Avalon, Little Harbor is a sandy, beachfront…
Catalina Isthmus

(310) 510-4205
Parsons Landing is a secluded beach campground located seven miles west of the village of Two Harbors. The eight primitive sites accommodate up to eight people each and are accessible only by a moderately difficult seven-mile hike from Two Harbors or a two-and-a-half-mile hike…
Catalina Isthmus

(310) 510-4205
Located just 1/4 mile outside the village of Two Harbors on a bluff overlooking the Pacific Ocean, the Two Harbors Campground offers traditional tent camping, unique tent cabins, and our New Convenience Camping sites, which feature ungraded amenities for a more comfortable…
Catalina Isthmus

(310) 510-4205
Located in the heart of the village, Two Harbors General Store has been serving the community of Two Harbors and all its visitors for more than 50 years. You'll find a great selection of groceries, specialty cheeses, breads, domestic beers, microbrews, wine & spirits, and more…
$10 Off Catalina Island Ferry
Hop onboard the Catalina Flyer for daily ferry service from Newport Beach to Avalon, Catalina Island in just over 1 hour.
Online reservations are now open!
A sparkling night of evening gowns, tuxedos, champagne, dining and dancing on Sunday, December 31 in the world-famous Casino Ballroom.