Where is Catalina Island?
Santa Catalina Island, often called Catalina Island, or just Catalina, is an island off the coast of southern California only 22 miles (35 km) south-southwest of Los Angeles. The east end of the island is located at 33 degrees, 18'10″N, 118 degrees, 18'58″W.​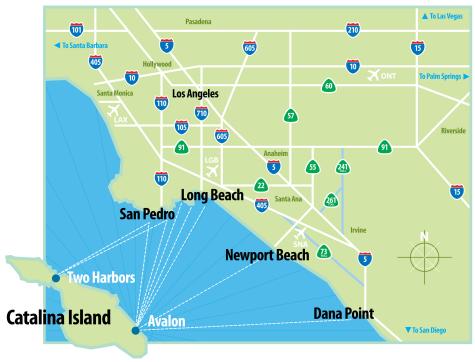 Catalina is part of the Channel Islands archipelago.  The eight islands that make up the archipelago are divided into two groups — the Northern Channel Islands and the Southern Channel Islands. Catalina Island is one of the four Southern Channel Islands.
Catalina Island is the only one of the eight islands with a significant permanent civilian settlement—the city of Avalon and the unincorporated town of Two Harbors. The distance from Avalon to Two Harbors is 13.4 miles by boat, 23 miles by road.
The Island is 22 miles long and encompasses approximately 47,884 acres or about 76-square miles.  The width is 8 miles at its widest point (Long Point) and 1/2 mile wide at it's narrowest point (Two Harbors or the Isthmus).  The coastal perimeter is 54 miles.
The highest elevations are Mt. Orizaba (2,097 feet) and Mount Black Jack (2,006 feet). The deepest water between Catalina and the mainland is approximately 3,000 feet or more than 1/2 mile. Water temperature ranges from 64 to 73 degrees in the summer and 54 to 59 degrees in winter.
Two boat companies provide scheduled service Catalina Island with departures from four mainland communities.
San Pedro
Long Beach
Dana Point
Newport Beach
Helicopter service is also available with departures from Long Beach, San Pedro and Orange County Airport.
You can be on Catalina Island in as little as 15 minutes via helicopter or one hour by high speed ferry boat from the mainland.
Catalina Island is part of Los Angeles County, and Avalon, incorporated in 1913, was the 30th city in the county.
Catalina Island has a long and interesting history dating back to the Spanish Empire. Catalina Island was once owed by William Wrigley, Jr. of Wrigley Chewing…
$10 Off Catalina Island Ferry
Hop onboard the Catalina Flyer for daily ferry service from Newport Beach to Avalon, Catalina Island in just over 1 hour.
Online reservations are now open!
A sparkling night of evening gowns, tuxedos, champagne, dining and dancing on Sunday, December 31 in the world-famous Casino Ballroom.