Trans Catalina Trail
Trans-Catalina Trail
The entire Trans-Catalina Trail spans 38.5 miles. Many adventurers hike the trail over 3-4 days staying at various campgrounds along the way; Hermit Gulch in Avalon, Black Jack near Airport in the Sky, Little Harbor on the windward side of the island, Two Harbors Campground in Two Harbors and ending at Parsons Landing at the far west end of the island. Trans-Catalina Trail Map.
Please note: Hiking is not allowed after dark and the wildlife within the Catalina Island Conservancy can cause serious injury.
Catalina Island Conservancy Trails-Catalina Trail Routes & Mileage
Avalon to East Summit - 3.2 miles
Garden to Sky Loop / Hermit Gulch Trail - 4 miles (roundtrip)
East Summit to Middle Ranch Jct - 2.0 miles
Middle Ranch Jct to Black Jack Jct. - 2.7 miles
Black Jack Jct to Black Jack Campground - 1.5 miles
Black Jack Junction to Airport - 2.5 miles
Airport to Little Harbor Overlook - 6.2 miles
Middle Ranch Jct. to Middle Ranch - 4.8 miles
Middle Ranch to Ben Weston Jct. - 2.4 miles
Ben Weston Jct. to Little Harbor Overlook - 2.3 miles 
Little Harbor Overlook to Little Harbor - 1.2 miles
Little Harbor to West Summit - 4.3 miles
West Summit to Two Harbors - 2.5 miles
Two Harbors to Parson Landing - 6.6 miles
The Conservancy outlines the segments of the TCT into 5 Sections:
1: Avalon to Black Jack
2: Black Jack to Little Harbor
3: Little Harbors to Two Harbors
4: Two Harbors to Parsons Landing
5: Parsons to Two Harbors
Trekking Catalina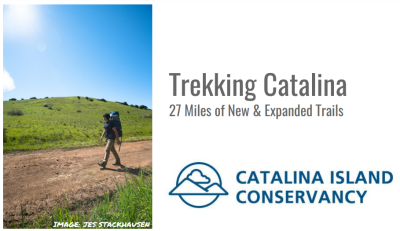 Click the image for descriptions of 17 Trans Catalina Trails.
Trans-Catalina Trail Map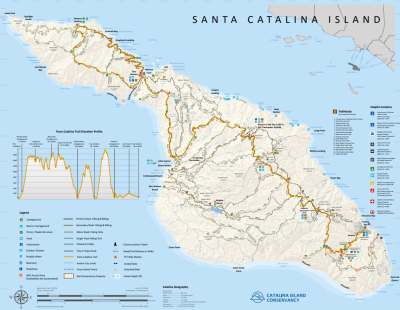 Trans-Catalina Trail by Bring Me