Catalina Island Info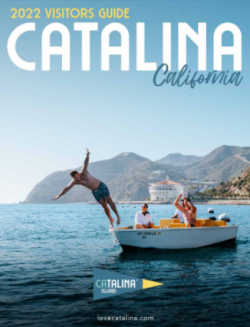 Located just 22 miles off southern California's coast, Catalina Island welcomes visitors year 'round. Getting here is easy with travel time to the island as little as 15 minutes by air or one hour by high speed passenger ferry. California's only island resort, Catalina Island offers endless options for visitors to enjoy.   Avalon hosts all the amenities of a larger city for residents to rely upon, while the village of Two Harbors offers a boater's paradise and quiet escape from the crowds with easy access to camping and wildlife. The island is also home to many camps and campsites as well as the USC Wrigley Institute for Environmental Studies, home to the USC Catalina Hyperbaric Chamber.  Whether you are planning a vacation, a wedding or group event or even looking to relocate to our island paradise, Catalina Island is the ideal destination for you.  
The Catalina Island Conservancy operates a non-profit land trust that manages 88% of the island as a preserve. Wildlife viewing, hiking and camping are the top reasons to visit the island's "interior."
There's a reason Catalina Island is said to have the "perfect climate."  Catalina Island boasts a year 'round Mediterranean climate with warm, sunny days and cool evening breezes. Summer temperatures average 75 degrees, while winter temperatures average 65 degrees. The sun shines an average of 267 days a year. Average rainfall is 12 inches per year.  Click for current Catalina Island weather information.
For more information about Catalina Island, please visit our FAQ page. Two Visitor Centers located on the piers in Avalon and Two Harbors offer support and information for travelers. The Catalina Island Visitor Center in Avalon operates under the following hours:
Monday - Saturday: 8am to 5pm
Sunday: 9am to 3pm
Closed for lunch daily: 12 to 1pm
Holiday hours vary seasonally (closed on December 25th).
The Two Harbors Visitor Center (operated by the Catalina Island Company) is open from 8am to 5pm daily, but hours vary seasonally.
The Catalina Island Conservancy operates The Trailhead Visitor Center where you can get information on the hiking, biking and camping in the interior.