New tours, upcoming events and special offers 
Immersed: Ocean Wonders
Catalina Island's newest activity, "IMMERSED: Ocean Wonders" by Akuario, officially opened its dome theater doors on September 1st and has been receiving glowing reviews. This air-conditioned, seated, 30-minute, projected immersive experience is conveniently located in the island tour bus plaza, adjacent to the mini golf course. Audiences take a journey across the world's oceans with our camera crew, exploring Catalina's lush kelp forests and Hawaiian lava tubes; meeting majestic whale sharks, soaring manta rays, inquisitive bull sharks, playful sea lions and mesmerizing bait balls; all set to contemporary music. Open daily with shows running on the hour and half-hour.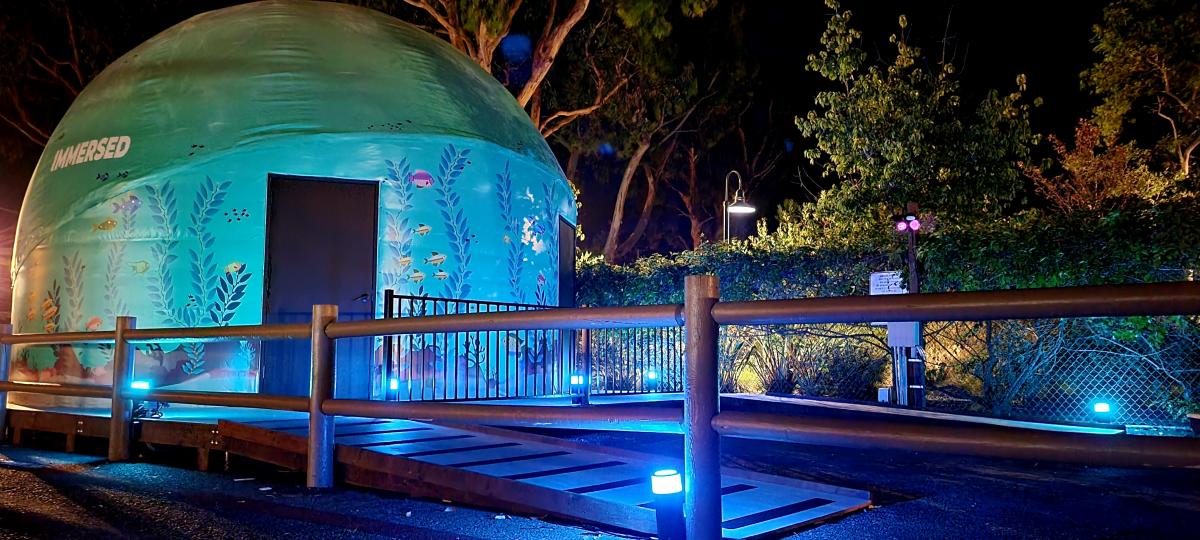 Catalina Divers Supply offerng the Avelo Dive System
Avelo Dive System at Catalina Divers Supply: Exclusive opportunity to explore the freedom of diving at one of North America's top dive and snorkel destinations, Catalina Island. Home to over 800 mesmerizing marine species, Catalina Divers Supply now certified to offer the Avelo Dive System, the only dive center in the continental United States offering this distinctive certification. This unique experience includes gear nearly half the weight of standard scuba gear, a streamlined system allowing for enhanced maneuverability underwater, full focus on the marine wonders, longer air consumption and a level of safety beyond that of traditional scuba equipment. Join us and experience the future of diving on Catalina Island, no matter your skill level, and let us be your trusted guide as you venture beneath the surface.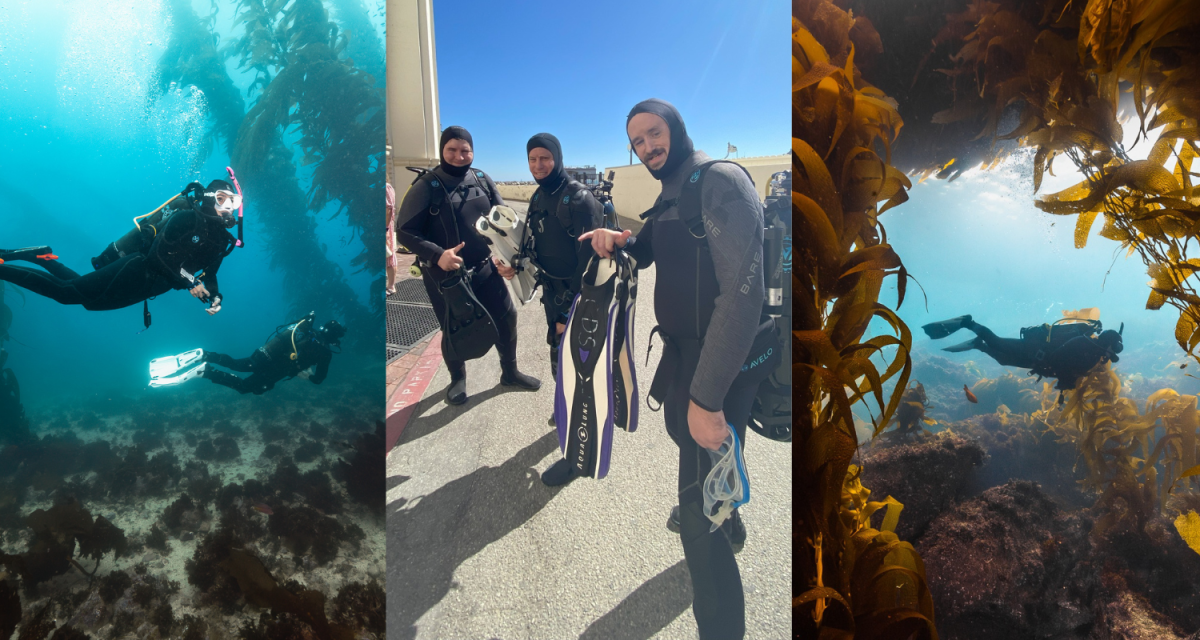 Diving with Scuba by Design
Discover Scientific Diving Program with Scuba By Design: Want to try scuba diving for free on your special day at some of the best shores California has to offer? Celebrate your birthday underwater at Catalina Island with a unique diving experience with Scuba by Design. Available through December 31, 2024, bring friends and enjoy a half or full day of diving on us. Try power SCUBA, see the magical kelp forest, take a night dive, and learn about ocean science and conservation with Discover Scientific Diving. Beginners and adaptive divers are welcome! Avalon is an ideal base for shore diving at Casino Point Dive Park, one of the top destinations in the country that offers excellent visibility in a biodiverse marine environment. Your experience is inclusive and tailored to your unique needs, promoting wellness and upholding a commitment to diversity, equality and inclusion for a joyful experience for all. Looking to obtain your Open Water Certification? Get a discount when you bring 2 friends. Reservations required for all experiences. Dive free on your birthday requires a minimum of two participants.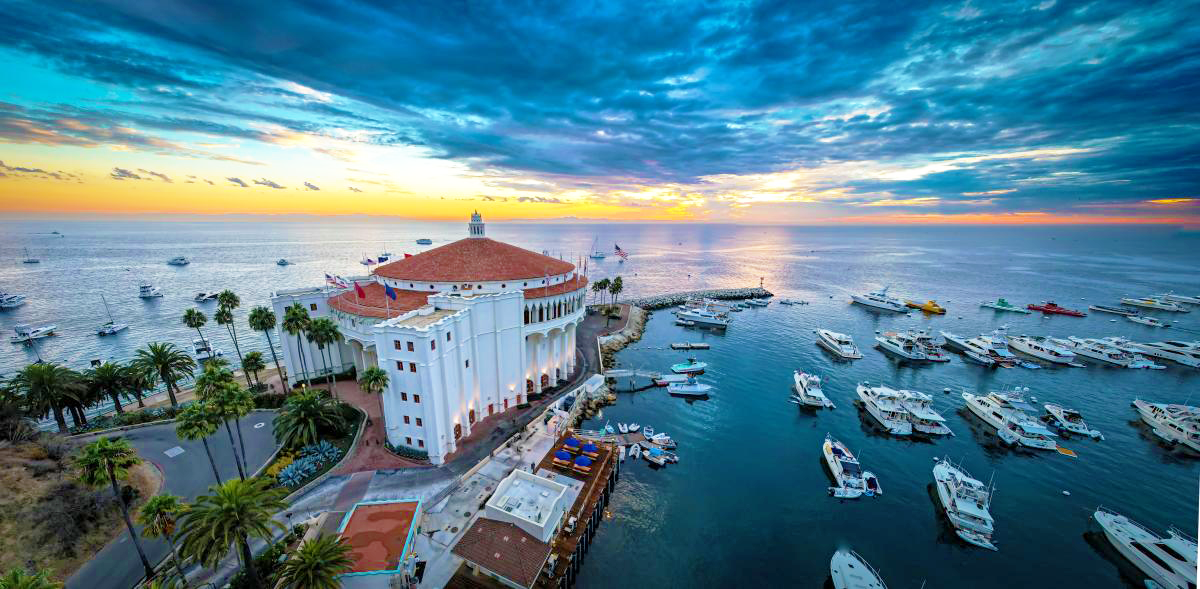 Catalina Museum for Art & History is Celebrating its 70th Aniversary!
Established in 1953, the museum is taking a fascinating journey back through seven decades of collecting and preserving Catalina Island's rich cultural heritage. In honor of 70 amazing years in Avalon, now featured is the "Cabinet of Curiosities: 70 Objects for 70 Years" exhibition, unveiling a hidden vault filled with rare objects, many of which have never before been publicly exhibited. These treasures from the permanent collection share incredible stories of human endurance, remarkable ingenuity and artistic excellence. Now through May 19, 2024, the museum will also host "Time Changes All Odds: Photography and Catalina," an exploration of how photography has contributed to the island's identity since the 1800s. This exhibition showcases images capturing the island's natural beauty, snapshots of leisure activities, architectural documentation, historical records, infrastructure details and glimpses into the daily lives of its residents. It's an opportunity to witness how much has evolved while also recognizing what has remained constant. 

Tour El Rancho Escondido
Venture into Catalina's picturesque interior to view the beautiful, recently renovated "hidden ranch" known as "El Rancho Escondido." Experience the Arabian Horse Ranch built by Philip Wrigley in 1930, which today serves as a home for the family's horses and is used to grow grapes for Rusack Vineyards. Visitors will enjoy a horse demonstration, view a selection of ribbons, trophies and Western memorabilia, and see "The Bishop's Chapel" with its awe-inspiring views. Learn the history of 'JORY's Bell,' the Baptismal Font and the original stained-glass windows of the chapel. Get tour information about Exploring El Rancho Escondido.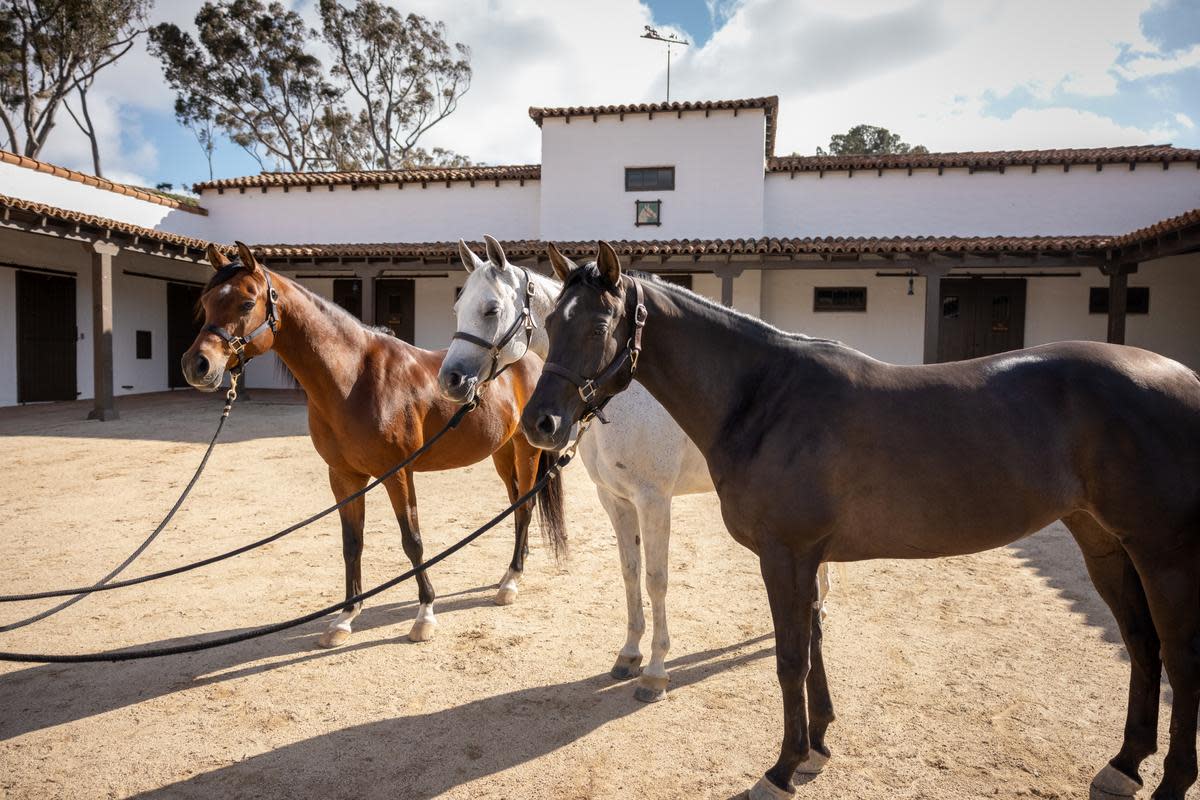 Lobster Season
Catalina Island lobster seaon opened on October 1st and continues until early spring. Indulge in the island's oceanic treasures as renowned restaurants like Steve's Steakhouse, NDMK Fish House, and Maggie's Blue Rose feature succulent lobster dishes on their menus. Catalina Island's pristine waters are known for producing some of the world's finest lobsters, renowned for their exceptional flavor and tenderness. From buttery lobster tails to rich lobster bisque, Catalina Island is the place to savor the highest-quality lobster delights. Mark your calendars and prepare your taste buds, because lobster season is just around the corner, and the island is gearing up to serve you a mouthwatering lobster feast that's bound to leave you craving for more. Bon appétit!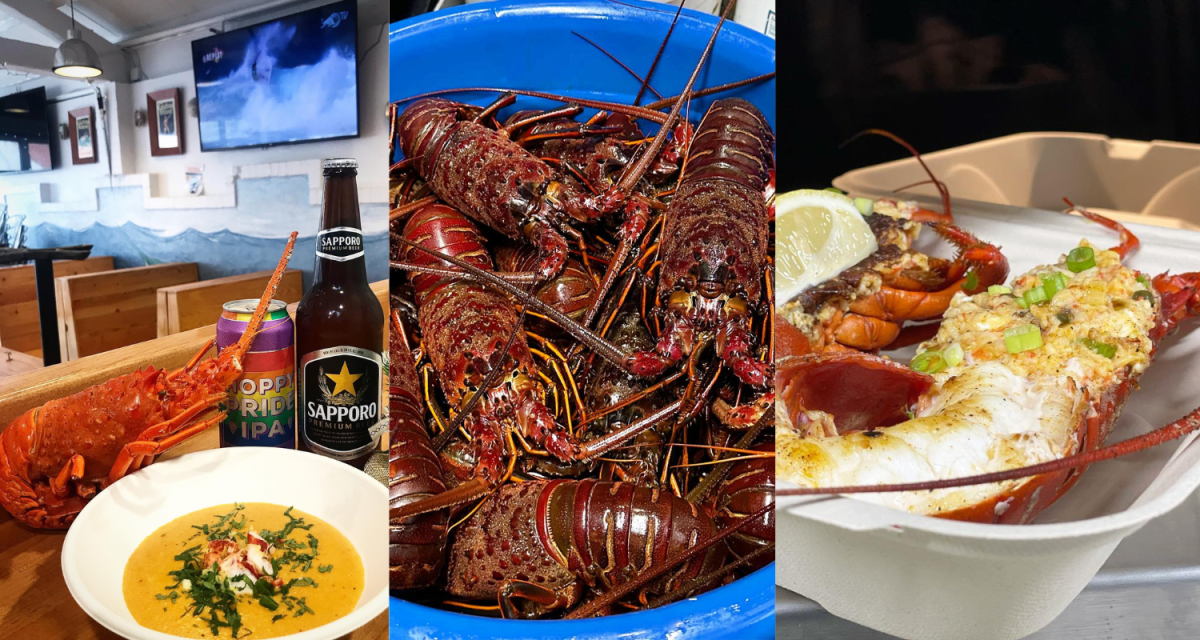 Halloween Parade & Zombie Party 
Get ready for a spooktacular Halloween in Avalon, a beloved tradition for both residents and visitors. On October 31, the festivities kick off with the annual Halloween Parade down Crescent Avenue, where ghouls, ghosts, mermaids, firefighters and more join in the fun. The parade line-up starts at Knabe Park at 4:30 pm, and it's an excellent opportunity for participants to showcase their favorite costumes. Following the parade, "zombies" will begin a spine-chilling crawl through Avalon, celebrating the "night of the living dead." Ghoul-tastic activities at Zombie Park, also known as Avalon Kid's Park, start at 5:30 pm and include a superhero jump house, haunted playground, camp, and more. Plus, the flat streets of Avalon are perfect for trick-or-treating, making this Halloween celebration a must-attend event for all ages.
Dia de los Muertos Family Festival
Join us for the 5th Annual Dia de los Muertos Family Festival at the Catalina Museum for Art & History, a vibrant celebration of the colorful Mexican tradition that honors both life and death. This event will take place on Wednesday, November 1st, from 6-9 pm. This free community event promises an evening filled with cultural richness. Families can engage in an art project for the kids, while adults can savor a tequila tasting. Local food vendors will satisfy your taste buds, and live music, including a performance by Ballet Folklorico Quetzal, will set the tone. One highlight is the Ofrenda/Altar and Art Contest, inviting community members to create ofrendas for a chance to win a cash prize, and creative artists can submit their Dia de los Muertos artwork for a similar opportunity. Additionally, don't miss the chance to win the 2023 Barbie and Ken Signature Edition Dia de los Muertos Dolls in the raffle.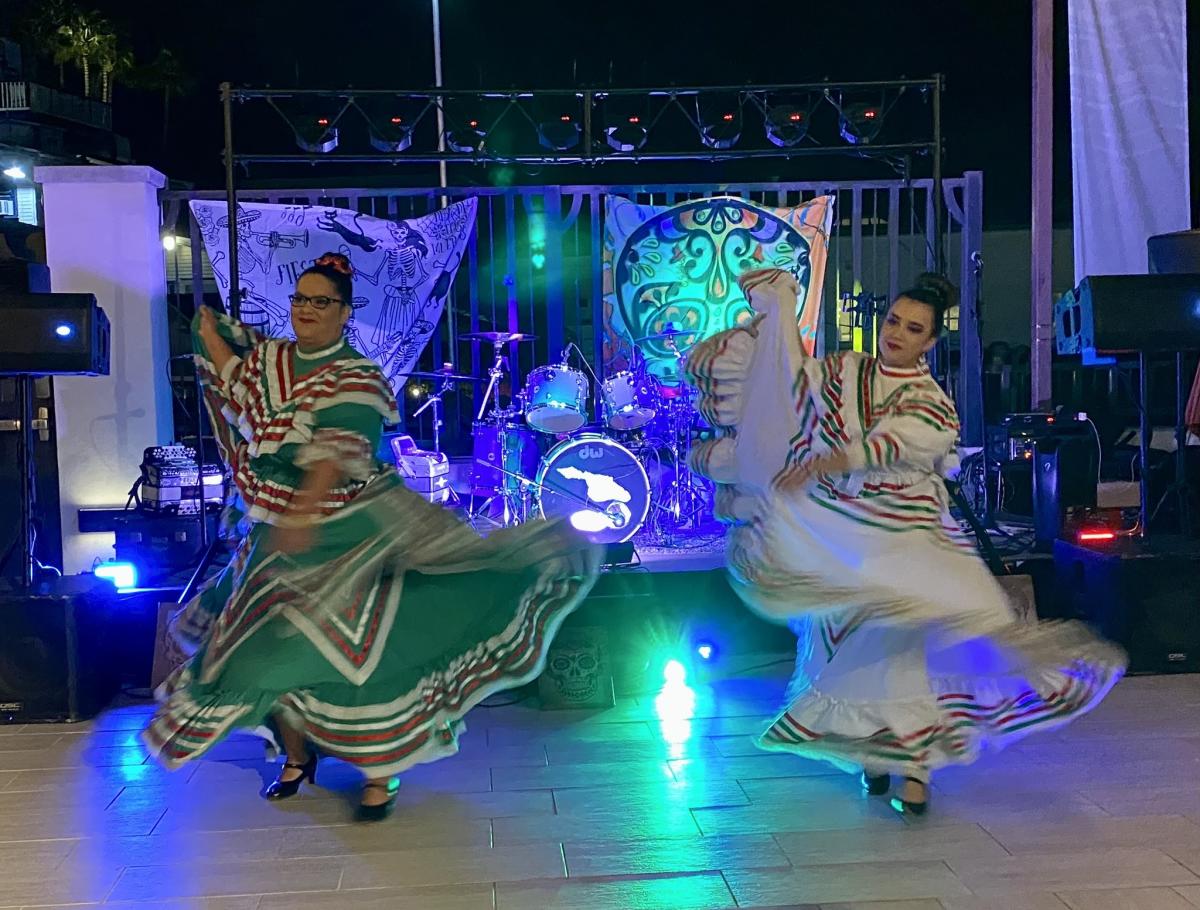 Catalina Triathlon
The last Catalina Triathlon, Duathlon and 5K event is set for Saturday, October 28, 2023, offering participants a chance to experience the stunning beauty of Catalina Island and the charming City of Avalon. This event has something for everyone and is open to novices and seasoned triathletes looking for a fun challenge. The traditional "end of the year" Sprint Triathlon presents a picturesque course that includes a half-mile swim in the tranquil waters of Avalon Bay, three scenic loops around Mt. Ada passing by the iconic Wrigley Mansion and a challenging 5K run featuring the breathtaking sights of Hogs Back and Chimes Tower before finishing in the heart of downtown Avalon. If you prefer to share the experience, two-to-three-person relay teams are available for the triathlon. Looking to skip the swim? The Duathlon allows you to take on the Mt. Ada course without the aquatic portion. A 5K run/walk option is available for participants wanting to enjoy the event without the full triathlon or duathlon experience.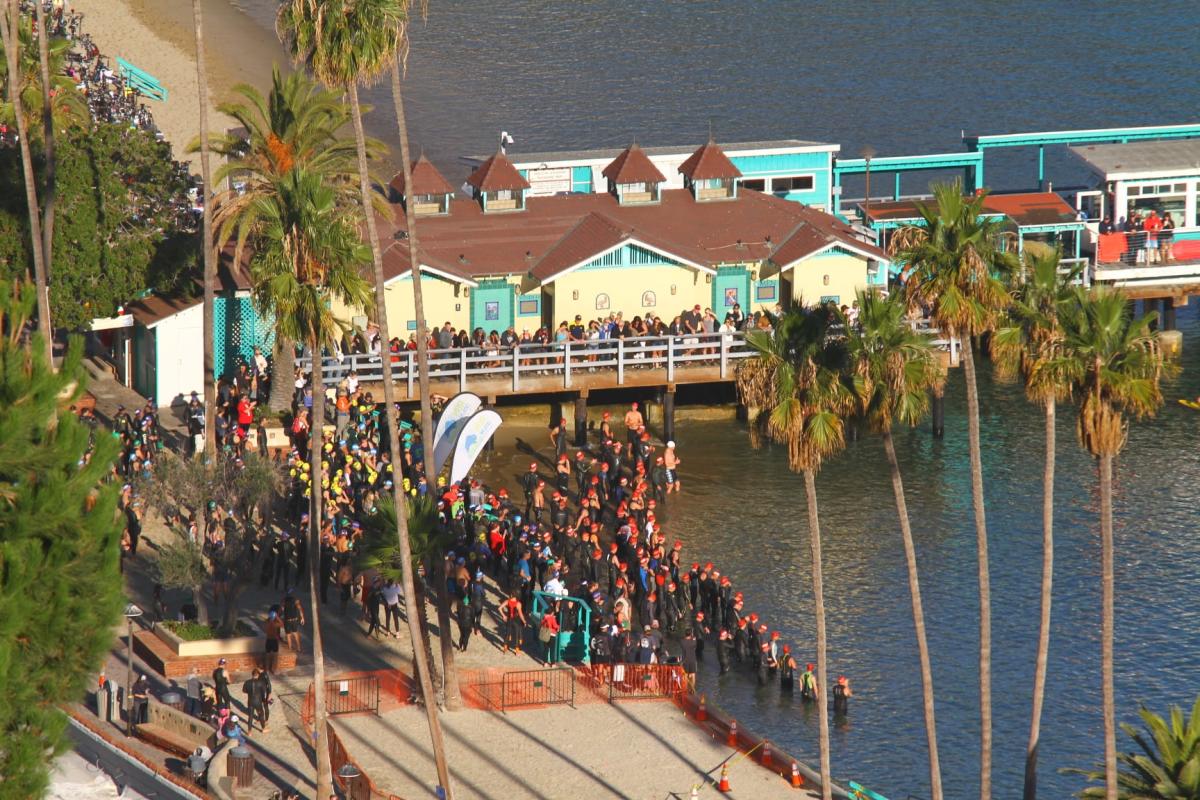 Catalina Island Marathon
Join us on November 11, 2023, for the Catalina Island Marathon, featuring a range of thrilling races for running enthusiasts, including the half marathon, 10K and the prestigious Catalina Island TRIPLE CROWN Challenge. The half marathon offers a challenging trail winding through the East End, with iconic landmarks like the Wrigley Mansion, Renton Mine Road and the island's rugged backside. Enjoy vistas of the Catalina Island Conservancy Nature Preserve and run in the territory of free-ranging bison! The 10K, a shorter yet equally exhilarating race, starts in the heart of Avalon, with city streets, hills and scenic trails. Pass by the famous Casino, the Wrigley's house, the Wrigley Memorial and Gardens and horse trails before reaching downtown Avalon. For those up for the ultimate challenge, the Catalina Island TRIPLE CROWN Challenge awaits! Complete all three Run Catalina events within 12 months—the Avalon 50K or 50 Mile, Catalina Island Marathon and Catalina Island Half Marathon—and unlock exciting SWAG including an exclusive Triple Crown FINISHER jacket, Hi-Tec shoes and a unique belt buckle. Plus, enjoy a registration discount for each race! In line with the Catalina Island Conservancy's environmental commitment, we are proud to offer Sustainable Finisher Medals to each participant when you purchase reusable soft cups or bring your own hydration systems!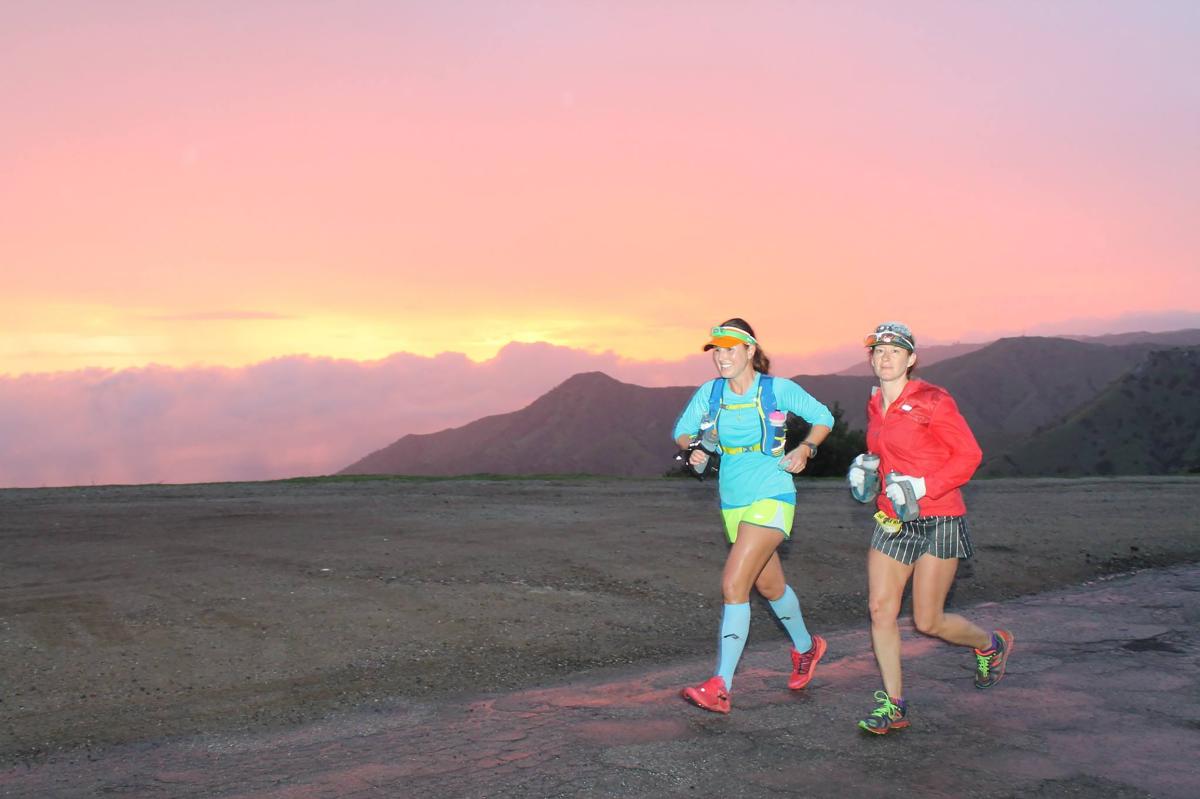 Disney Magic Cruise Ship
Disney Magic will be making its inaugural visit to Catalina Island on October 23, 2023, with ongoing visits throughout the cruise season. Just in time for their 25th Anniversary, Disney Cruise Line has sprinkled some pixie dust on the Disney Magic and refurbished their original ship into what is now the star of the Disney fleet. Calling on inspiration from Disney's "Encanto," "Soul," and "Moana" animated films, the Disney Magic has been reimagined into the ship of every Disney lover's dreams. Just as before when Catalina Island previously welcomed Disney Wonder to the Avalon Port, Disney Cruise Line will be presenting Love Catalina with an honorary plaque signifying the significance of the ship to the port in a Plaque Exchange Ceremony.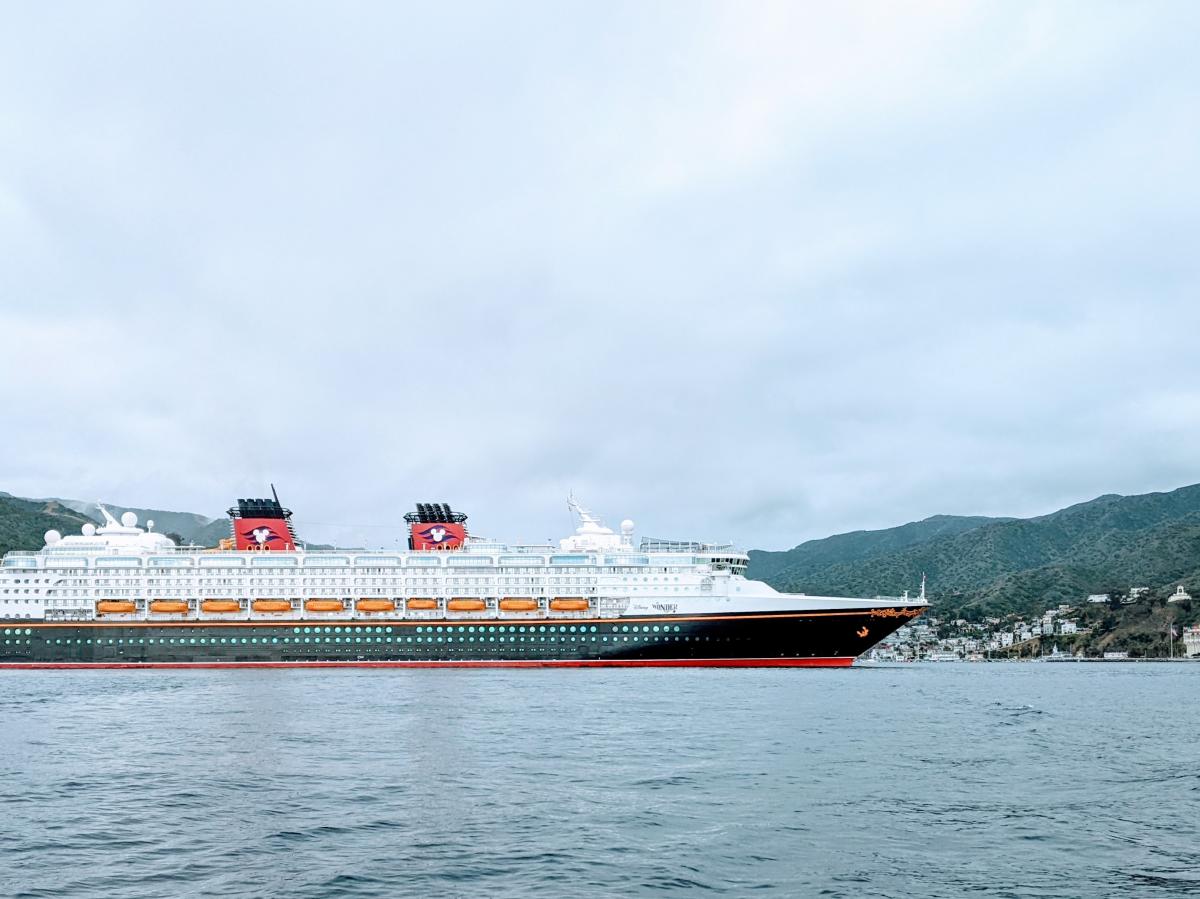 Mooring Special Offers in Avalon
Escape to Catalina Island and enjoy reduced mooring rates in Avalon Harbor. Starting October 15 through Palm Sunday, pay for any 2 nights in advance in Avalon Harbor and receive 5 consecutive nights free! Located on the southeast end of the island, the Avalon Harbor offers access to historic seaside destinations that have attracted film stars, dignitaries and presidents throughout the years! Enjoy access to numerous hotels, restaurants, beaches, spa experiences, land & ocean adventures, a golf course and a host of recreational activities.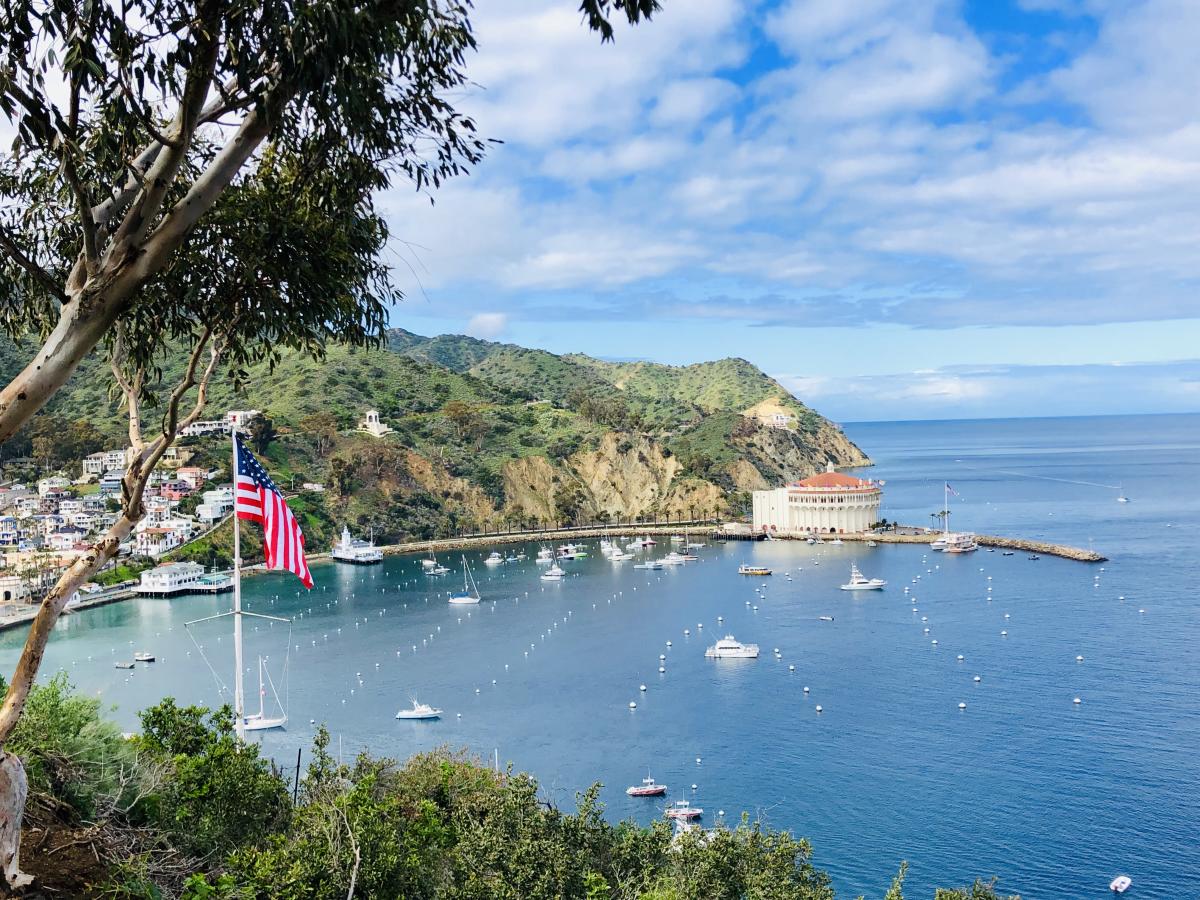 Mooring Special Offers in Two Harbors
Want to stay longer in Two Harbors and save? Now through October 31, purchase 6 nights and get the 7th night for free! Then, starting November 1 to March 31, get 5 nights free when you purchase 2! Located at Catalina Island's west end, over 700 mooring sites are available around Two Harbors in secluded coves, landings, beaches and harbors, including Isthmus Cove, Fourth of July Cove, Cherry Cove, Emerald Bay, Howland's Landing, Little Geiger, White's Landing, Moonstone, Hen Rock, Buttonshell, Catalina Harbor and Wells Beach.