Want to grab a beer on Catalina Island?
Beer and Catalina go together like summer and sunshine. Whether it's pizza and lagers on the waterfront or sampling a great craft IPA with your toes in the sand, beer on Catalina has a history going back generations. Island-brewed craft beer, an epic beer festival and a new beer garden are just a few of the many ways to indulge in summer's favorite beverage.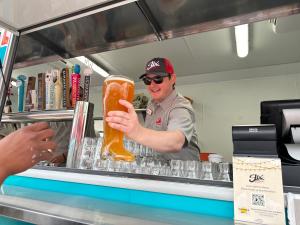 FLX Biergarten: An homage to the Flxible buses that took generations of Catalina visitors to the explore the island's interior, this new beer garden features more than a dozen beers, from pilsners to hefeweizens and ambers to IPAs. Beer fans can choose from pints, liters and giant two-liter boots. Can't decide? Order a flight and sample several beers. Wines, hard seltzers and kombuchas round out the menu. Food is also available, with an array of beer friendly options on tap – so to speak.
Located on the corner of Metropole and Crescent avenues, FLX Biergarten is an open-air destination with more than just beer and food. Visitors can also engage with social-media friendly murals and gather 'round several firepits.
FLX may be the island's newest beer destination, but it is far from the only place to grab a brew while you are on the island. All of Catalina's bars and most of its restaurants offer draft and bottle options, but several destinations take it to the next level.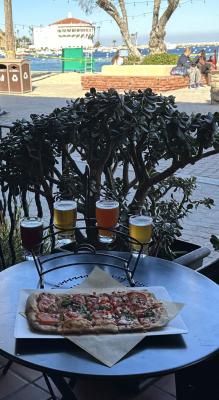 Catalina Island Brew House: Home to the only beer brewed on the island, this waterfront spot is ideal for trying a range of brews with a true Catalina origin. Rabid Fox Amber, Garibaldi Blonde, Lover's Cove Wheat and several other options are all brewed in-house in small batches and are available by the pint or the flight. Infused with local botanicals, cooled by salt water and brewed using desalinated ocean water, Catalina Island Brew House's brews offer a truly local beer experience.
Catalina Island Brew House is located on the waterfront, just across from Avalon's green Pleasure Pier. Indoor and outdoor dining are available and there are several beer-friendly food options, including pizza and pretzels.
Two Harbors Brew Fest: At the other end of the island, Two Harbors is a popular destination for beer drinkers, especially during the Two Harbors Brew Fest, an afternoon festival featuring live music, appetizers and, of course, plenty of beer. Attendees will be able to sample 30 microbrews from around the world and take home a souvenir beer glass. The Two Harbors Brew Fest is held annually in September.
Oktoberfest: No need to travel to Germany to enjoy Oktoberfest. Every October the Catalina Museum for Art & History hosts it's own version with music from an authentic Bavarian polka rock band and of course, German beer. Guests are encouraged to dress in their finest lederhosen and dirndls and B.Y.O.S. (Bring Your Own Stein).
Catalina's Beer on the Move: Thanks to the island beer distributor Catalina Beverage Company, you may have seen Catalina's beer on the mainland. The company has four large trucks that travel around the Los Angeles area as part of their route. Each of the four sports distinctive Catalina scenes.
Catalina's favorite: According to that same distributor, Catalina's top beers by consumption are Modelo Especial, Michelob Ultra and Kona Brewing's Big Wave.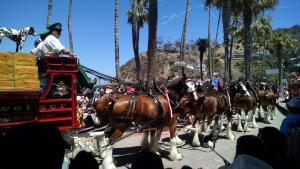 Here Comes the Bud: In 2016, Catalina's favorite was Budweiser – even if not be consumption. That's because the company sent its iconic team of Clydesdale over to the island to participate in Avalon's Fourth of July Parade. The famous horses arrived by barge and spent a few days thrilling visitors and locals alike before joining the dozens of golf carts, the USC Marching Band and the other parade participants as they sauntered down Crescent Avenue.
Dancing in the Street: Throughout the summer, Avalon is home to a series of family friendly concerts that offer great music and an excuse to dance in the streets. Held on Wrigley Stage overlooking the Avalon waterfront, the Catalina Island Concert Series is accompanied by a popular pop-up beer garden and sponsored by Ballast Point Brewing.
Overtown Brewing Company: For Catalina locals, the phrase "overtown" means the mainland. But for Overtown Brewing, available at NDMK Fish House, the phrase is an homage to co-founder Ryan McKay's island roots.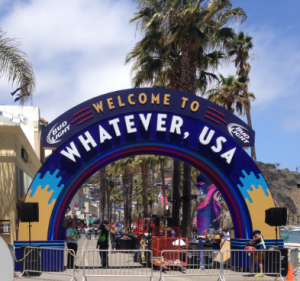 Up For Whatever: For a few magical days in 2015, Bud Light took over Avalon in what was intended to be the beverage giant's second iteration of a marketing mega-moment. Complete with celebrities, contest-winning visitors and a heady dose of whimsy, Up For Whatever was a long weekend of concerts, experiences and a good time for all. Although the campaign for scrapped before the Catalina episode aired, Up For Whatever still maintains near mythic status for the island residents who attended and its influence remains in a few Bud-blue decorations and the Bud-funded sports field in Avalon Canyon.
Let's grab a beer on Catalina!