Catalina Island Concerts & Live Music
2021 Catalina Island Concert Series
Free Concerts on Wrigley Stage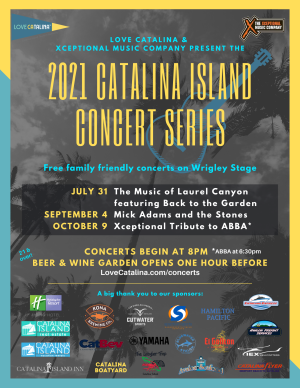 Saturday, July 31: The Music of Laurel Canyon featuring Back to the Garden 
Saturday, September 4: Mick Adams and the Stones
Saturday, October 9: The Xceptional Tribute to ABBA more info (concert begins at 6:30pm)
Catalina Island Concert Series concerts are provided by Love Catalina in partnership with The Xceptional Music Company. A beer garden adjacent to Wrigley Stage along with opportunities to win raffle prizes will be available throughout each concert. Concerts are from 8pm to 10pm (ABBA Concert from 6:30pm to 8:00pm) with the beer garden opening approximately one hour beforehand. 
Live Music
Benefit Music Concerts
Saturday, August 21
Damage Inc-Metallica tribute, Noise Pollution-AC/DC tribute, Seattle's Best-90s tribute
STRANGELOVE Depeche Mode tribute
Sunday, September 5 at Descanso Beach Club
1:30pm to 6:45pm: Flashback Heart Attack (80's favorites), Champagne Yacht Club (#1 Yacht Rock band in Texas) and Buffett Island-The Jimmy Buffett Experience.
Catalina Wine Mixer
September 10-11, 2021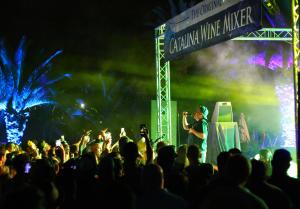 The Catalina Wine Mixer at Descanso Beach Club is one of SoCal's most unique and entertaining wine and music events. Join your fellow wine lovers, foodies and Step Brothers fanatics at the 6th Annual Catalina Wine Mixer. 
Live music with Jason Feddy, Kelly Boyz Band, Matt Koerner, Tunnel Vision and Common Sense. 
Buccaneer's Weekend in Two Harbors
September 30 - October 2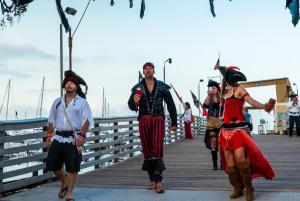 Aargh, mateys! Come celebrate our 31st Annual Buccaneer's Weekend. Don your best pirate attire and set sail for Two Harbors for a weekend of treasure hunts, costume contests, great food, live music and a lot of fun.
Live music with Humble Hooligans, Journey USA and Yachtley Crew. DJs Ben Official and Splyce will spin the tunes.
Sammy Hagar's Birthday Bash
October 7, 8 & 9 - Casino Ballroom
You are invited to celebrate the last rays of summer an epic week of Sammy Hagar & The Circle concerts! Grab one of 30 daily ferries and sail to the majestic shores of Catalina Island for a weekend-long concert party at Sammy's annual BIRTHDAY BASH! More info.
JazzTrax
October 14-17 and October 21-24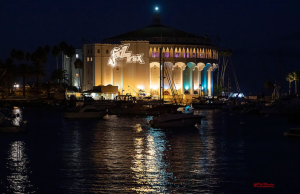 Longest running Smooth Jazz Festival in the world...since 1987. Two consecutive October weekends in 2021.
Each JazzTrax Weekend opens with Thursdays Unplugged Under the Stars (outdoors) at Descanso Beach Club.  Each JazzTrax Weekend then continues Friday through Sunday inside the 1929 Casino Ballroom. 
Buy your tickets now! Visit JazzTrax.com or call 866-872-9849.