Catalina Taxi & Tours
Christy Lins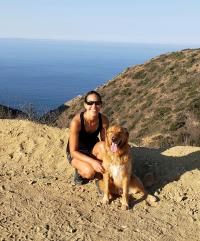 Catalina Taxi and Tours (Catalina Transportation Services, Inc) formerly known as Journey Catalina, is a locally owned Taxi and Tour company that has been in business in Avalon for more than 50 years. The business began in the 1950s offering taxi service to visitors and guests. In 2011 the company began offering private island tours. The most recent ownership now lies with Christy Lins, who acquired the business late in 2019.
Christy came to the Island 16 years ago. Originally from Bakersfield, she earned her Bachelors in Accounting, and later her CPA license. When she moved to the island, she started her CPA practice, Christy L Lins Accountancy, which caters to many local business owners and residents. Christy was elected as and held the position of City of Avalon Treasurer for 3 terms, but had to step down from that position when she purchased the taxi company, due to a conflict of interest. Christy also owns Catalina Divers Supply, another Island business with a long, rich history, and has served on the board of several nonprofits, including the Catalina Island Museum, Catalina Island Women's Forum, and Avalon Rotary Club. Christy is an avid hiker, cyclist, and ocean lover, so Catalina and all of it's beauty and ruggedness is a natural fit for her.
With her gift for numbers and creative mind, Christy began her vision of taking Catalina Taxi and Tours into the 21st century. Her love of the Island, its visitors, and her business know how gives her the much needed edge required during these trying times.  Keeping the existing employees through the purchase, who understood how important our visitors are, was essential to Christy's vision of moving the company forward.  Since December we have implemented new tour offerings, the convenience of accepting credit cards in the taxis, and rebranded the company to its new name and logo. Christy has managed to keep the company going during the pandemic and has kept many of her employees working to improve the company so that the moment our cherished visitors are allowed back we are ready to show you the beauty of our Island.
Catalina Taxi and Tours offers exclusively private tours. With the ability to cater to each guest, it allows us to take the time to show you what makes the Island so special to all of us, while also allowing you the time to breathe in the beauty of our Island. While we offer several of our most popular tours online, we can also work with you to offer something completely customizable.  We also offer transportation throughout the island and its various camp sites, as well as to the Airport in the Sky. Most of our staff have been with the company for many years, some even decades.
Catalina Island is a rare gem with its magnificent views, and diverse plant and wildlife.  The feeling of driving in one of our open air jeeps with the wind blowing in your hair while viewing the majestic Island we all call home is sure to make you fall in love with Catalina Island the way we all have.
Every day we go to work hoping to do two things; share our love of the Island with visitors who we call family and help you see the beauty of Catalina Island. Catalina Taxi and Tours is a family, and from our family to yours we hope to see you all very soon!
$10 Off Catalina Island Ferry
Hop onboard the Catalina Flyer for daily ferry service from Newport Beach to Avalon, Catalina Island in just over 1 hour.
Online reservations are now open!
A sparkling night of evening gowns, tuxedos, champagne, dining and dancing on Sunday, December 31 in the world-famous Casino Ballroom.