Fun-filled summer season features a concert series, unique movie experiences, and more on beautiful Catalina Island
From water sports and thrilling aerial adventures to beachfront lounging and soaking up incredible scenic views, Catalina is an idyllic retreat for travelers who want to slow down and enjoy life on island time. Enjoy a multitude of lively events and activities during for the summer season.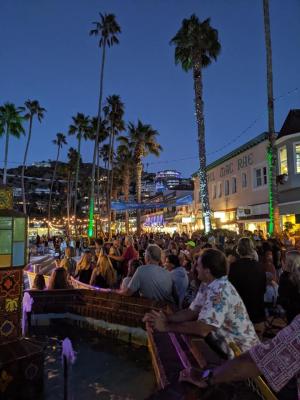 Catalina Island Concert Series: July 15, August 19 and September 2
In partnership with Xceptional Music Company, the family-friendly Catalina Island Concert Series returns for another summer of incredible live music at Wrigley Stage. Concerts are held from 8 p.m. to 10 p.m. with a 21+ beer, wine and spirits garden located adjacent to the stage featuring raffle and prize opportunities throughout the evening. This year's lineup includes:
Venice with the Pine Mountain Logs (July 15) – Americana pop harmonies influenced by The Beach Boys, Eagles and CSN.
Mick Adams & the Stones (August 19) – A live, multi-media spectacle that takes you on a musical journey through the career of Rock and Roll's most celebrated bands
Xceptional Tribute to ABBA (September 2) – A fan-favorite performance highlighting the best of ABBA.
TOURS & THINGS TO DO:
Flying Fish Voyage This popular seasonal tour from Catalina Island Company is back for the summer, giving visitors an up close and personal nighttime experience aboard the Cyclone boat as guests cruise along the coast in search of Catalina's world-famous marine aviators. The boat is equipped with a powerful searchlight that entices the fish to take flight and soar across the surface of the sea. To book tickets, visit the website here.
 
Cyclone Power Boat to Two Harbors Transportation between Avalon and Two Harbors via the Cyclone, a seasonal high-speed power boat has resumed daily services. The 40-minute boat ride is the fastest way to travel between the two locations, providing visitors an opportunity to explore both ends of Catalina in the same day. The boat departs from the Green Pleasure Pier in Avalon for an exciting cruise along the stunning Catalina coast. Tickets are $18 each way and can be purchased online here.
NEW BUSINESSES
Catalina Cones: Ice Cream in Paradise, Catalina Cones is serving the finest ice creams using grass-grazed milk & cream, local, and organic products. Stop in for a Catalina Split or Avalon Dip! Located on Pebbly Beach Rd.

Flx Biergarten: The island's first and only Biergarten located in Avalon, Flx pays homage to the island's rich history and takes its name from the iconic '50s Flxible buses that once graced the streets of Avalon and wandered the island's interior with curious tourists. Flx boasts an open-air atmosphere that includes charming string lights and cozy firepits, Flx is the perfect place to enjoy a cold beer, wine, seltzer, or kombucha with friends. Plus, beer lovers can sample a variety of styles with tasty beer flight offerings. This Fall, Flx Biergarten will host Catalina Island Company's first Oktoberfest from September 29 to October 1.

Catalina Charlie's is now open in the former location of the Catalina Cantina on Crescent Ave.

Topside by NDMK is now in the former location of Toyon Grill in the Catalina Conservancy's Trailhead building.
SEASONAL SUMMER FUN:
Beach Days: Mondays
The City of Avalon will host Beach Days on Mondays from 11 am to 3 pm through August 28. Swim with mermaids, take out a kayak and participate in beach games.
Movies on the Beach: Wednesdays through August 
The City of Avalon will host Movies on the Beach on South Beach every other Wednesday from June 21 to August 23. Films begin at 7 p.m. and snacks and refreshments are available for purchase. Visitors are encouraged to bring their own chairs or blankets. The full movie lineup, featuring family-favorites like "Wall-E" and "Lilo & Stitch", can be found here.
Summer Beach Bingo: Through August 24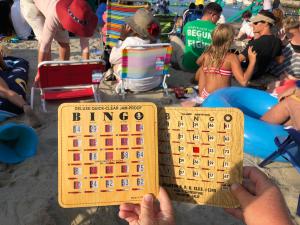 Every Tuesday and Thursday from 6 p.m. to 7 p.m., families can enjoy a game of bingo right on the sand. Located on South Beach, visitors can bring a beach chair or towel and play for a chance to win fun local prizes. Bingo cards are $1 each.
Kids Fishing Derby: Through August 23
Every Wednesday from 7 a.m. to 9 a.m., kids can participate in a free fishing derby presented by the City of Avalon. Kids can purchase or rent equipment and get bait from Joe's-Rent-A-Boat on the Green Pleasure Pier. Prizes are awarded every week following the derby. Bait and gear are also available on the pier. 
Fitness Fridays: Through August 25
Meet at Kids Park for Fitness Fridays from 9 am to 12 pm and take part in a variety of fitness classes from Zumba, to Stretch, Weight Lifting and Boxing. Presented by the City of Avalon.
Art in the Park: Saturdays Through August 26
Meet at Kids Park on Saturdays from 11:30 am to 3 pm and take part in Art in the Park. Come and let your creative side out.
Sunday Wellness: Through August 27
Join us every Sunday at Avalon City Park as a variety of licensed instructors lead Sunday Wellness including yoga, sound healing and more.