Thinking about visiting Catalina Island for the first time? Prepare to fall in love. This Island paradise takes lifetime to explore all of its secrets, but there are a few things you should know before you arrive.
Things You Should Know Before Your First Visit to Catalina Island

Getting here is easy -- There are two passenger ferry boat operators, operating out of four ports plus a helicopter offering regular service to Catalina Island. With Catalina ferry ports in San Pedro, Long Beach, Newport Beach and Dana Point, as well as heliports in San Pedro and Long Beach, getting to the island is easy – fun and part of the adventure. Spotting dolphins, looking for whales and relaxing on the journey are all part of the trip to Catalina Island.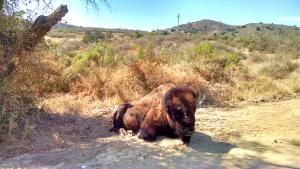 Avalon is just small part of the Island – While the charming seaside resort of Avalon has plenty of attractions to keep you busy for an entire vacation, Catalina Island has much more to offer. Covering about 76 square miles, Catalina is primarily owned and protected by the Catalina Island Conservancy and visitors can experience its dramatic natural beauty by hiking and organized tours.
Avalon is just under 3 square miles - Avalon is very walkable and bikeable. Our main street which runs along the Avalon Bay, Crescent Ave, is pedestrian friendly and closed to vehicles and bicycles. Although we do offer a taxi service and a public bus, the majority of visitors get around on foot. Golf carts are rented by the hour and are a great way to get a lay of the land. If you're staying in a vacation rental, it's likely a golf cart will be included in your rental. Be aware that parking is very limited in Avalon.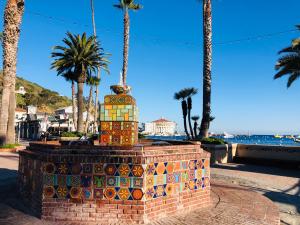 Catalina Island is part of Los Angeles County – There's no need to get out your passport or worry about changing money. It may seem like an exotic paradise, but Catalina Island is part of California. Our law enforcement is provided by the LA County Sheriff's Department and our schools are part of Long Beach Unified School District.
There Is So Much To Do & See
You won't be able to see it all in just one trip – While many first Catalina visits are a day trip or a port stop on a cruise ship, exploring Catalina Island is much more fun when you have a few days to do it. Even then, you won't be able to experience everything this compelling island has to offer with just one visit. See a list of our Top Ten Adventures:
Rent a Golf Cart
Experience the Zip Line Eco Tour or Catalina Aerial Adventure
Explore the island's "interior" on a Eco Tour or Bison Tour
Visit Two Harbors, Catalina's west end village
Get some air with Parasail tour or Heli picnic
Play a round of Mini Golf or play a round at the oldest operating golf course west of the Mississippi
Hit the water in Kayak, SUP or Rental Boat
SCUBA Dive or Snorkel in our Marine Protected Areas
Explore our history with a tour of the Catalina Casino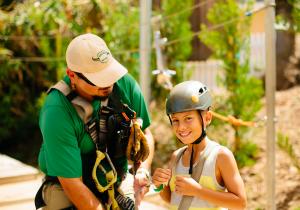 There's a whole lot to do on the island – Adrenalin-pumping adventures? Check. Cultural wonders? Check. Things to do for the entire family? Check. First time visitors to Catalina Island are often surprised by how much there is to do here. Whether you're looking for a vacation over-flowing with activity or a relaxing retreat with nothing more strenuous than a nap, Catalina Island is the ideal destination. Check out our list of Things to Do with Kids, also as known as Kidalina. 
Plan ahead - Except for summer months, it's not always necessary to book tours and excursions ahead of time, but you may want to plan ahead, coordinating arrival and departure times on the island with tour and activity departure times. Some activities are only offered between certain hours of the day and take 1-2 hours.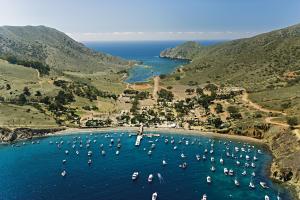 Two Harbors is on the other side of the island - Two Harbors is a small unincorporated village on the west end of the island. Popular with boaters for decades, its South Pacific vibe is perfect for those wishing to get away from it all. There's one bed & breakfast, two vacation rentals, a campground, beach club, General Store, restaurant and plenty of charm. Visitors can take the Catalina Express directly to Two Harbors from San Pedro, take a 40 minute boat ride from Avalon in the summer months or hike to this port town. Transportation between Avalon and Two Harbors by land is not readily available.
The best time to visit Catalina Island depends – One of the most common questions first-time visitors to Catalina ask is "what's the best time of year to visit?" And the answer depends on what you're looking for in our four season resort. Summer features sun-drenched beaches and the widest range of activities. Fall offers great weather and a wealth of events and festivals. Winter provides uncrowded attractions and a sense of serenity. Spring begins to heat things up again and is a great time to explore the interior of the island.
Catalina History and Culture Come Alive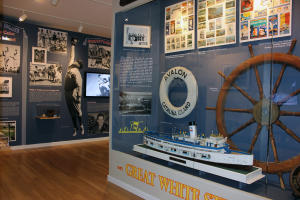 Catalina Island has been many things to many people – While the island has been a vacation destination for more than 100 years, it's also served as a military outpost, smugglers' hideout and cattle ranch. For nearly 10,000 years, it was home to native islanders, accomplished seafarers who thrived here for hundreds of generations. To learn more about  the culture and history of the island, visit the Catalina Island Museum for Art & History.
You won't be able to see the sunset from Avalon – Many first-time visitors to Catalina Island are surprised to discover that the sunset view from the seaside resort is limited. Most of Avalon is surrounded by hills and Avalon Harbor faces northeast – to see the sunset over the Pacific, you'll need to travel to the windward side of the island. In Avalon, you will be treated a beautiful evening glow, the perfect backdrop for your dinnertime meal. On the other hand, early risers are rewarded with spectacular sunrises in Avalon.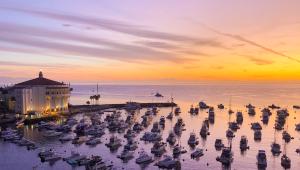 You'll be able to stay connected – if you want – Like everywhere these days, both Avalon and Two Harbors have cell and wi-fi service, although it may not be as fast as what you are used to. Many places in the interior of the island are isolated and service is not available.
Water is a precious commodity – While current drought conditions aren't severe, conserving water is always a priority on this Southern California island. Don't be surprised if you are only served water on request or see information about conserving water at various locations around the island.
You're going to want to come back. Again and again – There are very few for whom a first visit to Catalina Island is a last visit. This fascinating Southern California destination invites exploration and you'll soon be looking forward to your next visit.