Arriving on Catalina Island, visitors are intrigued by the island's topography, with its dramatic hills soaring above the coastline. That dramatic terrain can be best appreciated from above and experiencing Catalina by air is an ideal way to see this spectacular Southern California island.
Catalina Island air adventures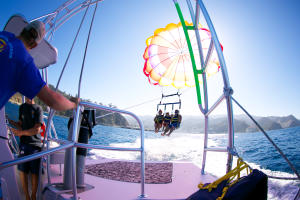 One of the most popular ways to soar above the island is also one of its most visible. Nearly every day, dozens of visitors are whisked hundreds of feet above the Pacific Ocean for a bird's-eye view of Avalon Harbor from a parasail. Towed behind a specially outfitted speedboat, parasailing adventurers can have their feet dipped in the sea on a hot day or simply relax and enjoy the view.
Getting high above the terrain is also possible in Descanso Canyon, where the Catalina Zip Line Eco-Tour has become one of the most popular activities on Catalina Island. Featuring five lines, this high-octane adventure whisks thrill seekers high above the canyon below.
Looking to get a more wide-ranging view of this scenic island? IEX Helicopters offers an array of air tours, allowing you to experience the dramatic cliffs, peaceful coves and bucolic valleys that make up the island. IEX allows offers heli-hiking, for those who would like to get a unique Catalina Island experience. Combining the thrill of an air tour with the hands-on adventure of hiking, heli-hiking is one of the newest adventures on Catalina. 
Getting to Catalina by air
Flying to Catalina Island provides another option to get an eagle's view of the island. Currently, whether you choose helicopter or fixed wing depends on your access to private planes.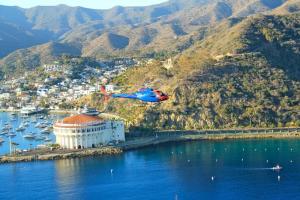 IEX Helicopters has provided scheduled on-demand charter service to the island for decades, with regular service available from San Pedro and Long Beach. The company can also provide direct service to the island from most Southern California airports, allowing you to fly to Southern California and fly directly to the island. Flying to Catalina takes about 15 minutes, with most flights landing at the heliport at Pebbly Beach, which is just a short taxi ride from Avalon. Charter service is available to other locations.
Catalina Island's Airport in the Sky welcomes aviators from throughout Southern California with its mountaintop runway. Thanks to an innovative partnership with the US Marine Corps, that runway has been recently rebuilt and repaved.
Now named the ACE Clearwater Field, the runway had become in desperate need of rebuilding when that partnership resulted in the expedition of more than 200 Marines and Seabees. The symbiotic project allowed the military to test their readiness while making possible an essential rebuild of critical island infrastructure. A grand reopening celebrated the project, with a visit from a restored DC3, once owned by Island icon Philip "PK" Wrigley, and now owned by his granddaughter Allison Wrigley Rusack.
Popular with pilots who fly in for lunch as well as those who land and spend a few days in Avalon or camping underwing, the airport is managed by the Catalina Island Conservancy, which offers a membership option to pilots known as the Catalina Aero Club. On the second Saturday of each month, Aero Club members host a fly-in, usually attended by a number of historic planes -- and interesting pilots.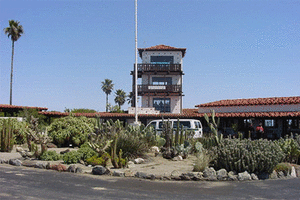 Six days a week, Catalina Flying Boats arrives at the Airport in the Sky, bringing the island's mail and much of its freight, including FedEx and UPS.
Whether you fly in or just want an experience out of town, transportation to and from the airport is available through the Catalina Island Conservancy as well as Catalina Taxi and Tours. With several intriguing hiking trails, a nature center and a restaurant, the airport makes a great day trip from Avalon or Two Harbors. Don't miss the "Killer Cookies" and the bison burgers at the DC3 Gifts & Grill.  
Catalina Island's Aviation History
No matter how you choose to enjoy Catalina by air, you'll be taking part in a tradition that stretches back to some of the earliest days of human flight.
Renowned aviation pioneer Glenn Luther Martin made headlines in 1912 when he flew his self-built seaplane from Newport Beach to Catalina Island and back again. Martin's channel crossing was soon followed by Chaplin Airlines, which offered regularly scheduled service in 1919 to 1920. Founded by Sid Chaplin, who was much less famous than his half brother, and Emory Rogers, Chaplin Airlines offered the first scheduled passenger service in the USA.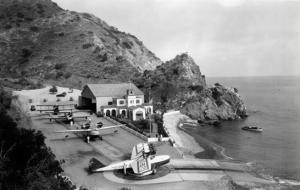 From the 1930s to the 1980s, regular commercial air travel to Catalina Island ferried hundreds of thousands of travelers to the island in various seaplanes, which would land and take off from just outside of Avalon Harbor. An homage to that aviation heyday still exists at Hamilton Cove, which was home to the terminal for those seaplanes – along with an innovative "turntable" that was used to rotate the planes after they had landed. The seaplanes provided a thrilling way to get to Catalina Island – and lifelong memories for those who flew in them.
Seaplanes weren't the only option for scheduled fixed wing passenger service to the island. United Airlines offered service from airports in Los Angeles, Long Beach and Burbank. Round-trip fares were just $5.50.