Love Catalina, Catalina Island Tourism Authority Acknowledges Community and Business Leaders with Awards
On July 22, 2021, the Catalina Island Tourism Authority held its 72nd Annual Meeting, Installation of Officers and Directors and an Awards ceremony at the Cove Bar & Grill at the Holiday Inn Resort Catalina. A complete list of the 2021-22 Officers and Board Directors can be found here.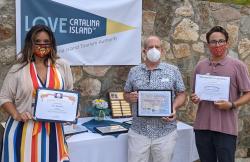 Commendations and Recognitions
Clayton Heard of Congressman Alan Lowenthal's office and Herlinda Chico of Los Angeles County Supervisor Janice Hahn's office, pictured with Love Catalina President & CEO Jim Luttjohann, presented certificates honoring retiring Love Catalina Island Board and Executive committee members.
The following awards were presented:
Harvey Cowell, Business of the Year Award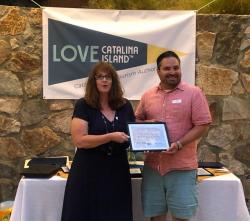 The Harvey Cowell Business of the Year Award is given each year in honor of Harvey Cowell, one of 15 visionary businessmen who on June 2, 1949 founded the Avalon Catalina Island Chamber of Commerce. Harvey Cowell was the proprietor of Island Pharmacy, was a prominent leader of the Catalina Island business community, served as an Avalon City Council Member and Mayor, and remained active in the community until his death at the age of 98 in March 2011.
The Harvey Cowell Business of the Year Award was established to recognize an extraordinary contribution by a business to the furtherance of tourism to Avalon and Catalina Island.
Of the three businesses nominated for the award this year, one truly stood apart for the ways in which they worked to support all residents, visitors and businesses on the island. This year's winner is, the Catalina Island Medical Center. According to President & CEO Jim Luttjohann, "CIMC is being honored for their work in disseminating information to inform the island residents and visitors of COVID-19 protections, protocols and vaccinations." Bryce Noll accepted the award on behalf of Jason Paret, CIMC CEO.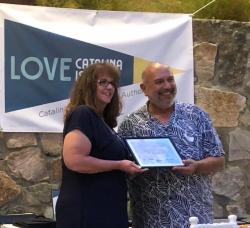 Care for Catalina, Sustainable Tourism Award 
Given for the first time this year to celebrate programs that encourage visitors and local businesses/nonprofits to support visiting the island with a lighter footprint and to help maintain critical habitats for future visitors. The sole nominee, but receiving multiple nominations for support of sustainability and improving the visitor experience was Avalon Rotary Club. "Club members have stepped up this year staging multiple community clean-ups in which both residents and visitors participated. Planters filled with non-invasive, drought tolerant plantings have also been a program brought forward by the club and its members, furthering the sustainability of the island while making it a more beautiful place to visit and enjoy," said Luttjohann. Avalon Rotary Chair Michael Ponce accepted the award.
Wayne and Susie Griffin Award for Community Service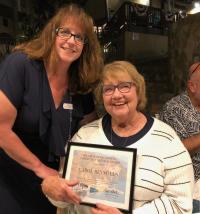 Was also given for first time this year, despite being established upon the retirement of Wayne Griffin from his position as Chamber of Commerce CEO. "Of the seven nominees made this year for the award, the one who got the most nominations was Carol Reynolds. Carol was called out for her work in securing a location and funding via ballot initiative for hospital construction," said Luttjohann.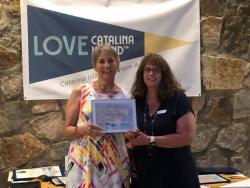 Chair's Award
Awarded by outgoing Chair, Nicole Hohenstein, Linda Salo was the recipient. Linda was awarded for her efforts in leading the Weed Warriors, a volunteer group that are maintaining planters along Avalon's waterfront and for making sure newly placed plants get the water they need.
President's Award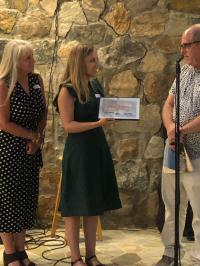 The Catalina Express was awarded by Tourism Authority President & CEO, Jim Luttjohann, stating "None of us could survive here without a dependable and safe means of travel to and from the island, both for ourselves and for our visitors. Over the course of dealing with the various travel bans and restrictions on operations, not the least of which was being the defacto mask police, Catalina Express management and staff have been vital to helping us navigate our way through the past year plus." Amanda Bombard and Carol Elliot accepted the award.