La Paloma Las Flores
Elyse Filderman - La Paloma Las Flores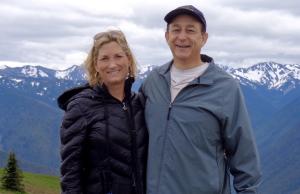 We first came to Catalina as young adults in the 90's on vacation. The first thing we saw were the amazing orange fish, Garibaldi, as we walked down the ramp. We later found out that the Garibaldi is the state fish of California. We had a chance to go on the Yellow Submarine Tour and view the fish from underwater which our young daughters loved! Later, in 2006, the family acquired a hotel, which has stayed in the family ever since. We love being part of the Avalon community. During that time, we have celebrated a family wedding, watched children grow up and go off to college, all the while with the hotel as our ground point.
My mother purchased a boutique hotel in Avalon, La Paloma Las Flores, in 2006 from the Foss family. The hotel actually predates the Wrigley's as the property goes back to 1910. When my mother passed away in 2013, I took over ownership. I work as a full-time pharmacist practicing on the mainland in Los Angeles. Over the years, we have worked with our wonderful managers, Tony and Esther Gomez, along with our other 4 employees, to improve the property, which has become a labor of love. My husband, Carl, an engineer, does free labor, whenever we are at the hotel. While the property is over 100 years old, we are not aware of any historic events that took place at our hotel.
La Paloma Las Flores is a boutique hotel with only 19 rooms and tranquil gardens throughout the property. It is known for being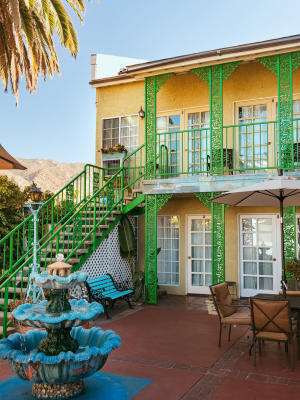 charming, quiet and offering "the Old Catalina Experience." Conveniently located on Sunny Lane, it is an easy walking distance to the main downtown area as well as hiking and water sports. Our managers are happy to set up tours for our guests with local companies. We offer continental breakfast during the summer months and are diver friendly.
We love many things about being here as we have made friends with other business owners.Our favorite time of year is Spring when the Wisteria blooms throughout La Paloma Las Flores.The restaurants on the island are delicious, diving is excellent, museums are wonderful, and you don't want to miss out on the photo worthy hiking and excursions. There are several events that take place on the island, but the Catalina Island JazzTrax is one that we consider incredibly special. Catalina Island is a wonderful place to have any type of family event. If you just want to get away, but don't have the ;me or money to go to Hawaii or Tahiti, Catalina Island is a good alternative and La Paloma Las Flores is ready for you
$10 Off Catalina Island Ferry
Hop onboard the Catalina Flyer for daily ferry service from Newport Beach to Avalon, Catalina Island in just over 1 hour.
Online reservations are now open!
A sparkling night of evening gowns, tuxedos, champagne, dining and dancing on Sunday, December 31 in the world-famous Casino Ballroom.