Ahhhhh vacation.
For some, it's the opportunity to disconnect from everything and everyone and reconnect and relax. For others, it just wouldn't be a vacation without sharing what's happening in your life with your friends and social media followers.
Luckily, Catalina Island's scenery and activities make for a covet-worthy Instagram feed. Here are our irresistible spots for a #LoveCatalinaIsland Instagram post.
At the boat – or the helicopter. Let everyone know you're getting away on your getaway with a kick off post from the Catalina ferry boat or Maverick Helicopters.
When you arrive in Avalon Harbor. Catalina's iconic Casino has welcomed visitors for nearly 100 years. Your Instagram feed won't be complete without a snap of this spectacular architectural marvel.
With Old Ben. Watch out for the selfie sticks! Old Ben, a friendly sea lion who entertained visitors about 100 years ago, has been immortalized in bronze. His statue still greets visitors at the corner of Crescent Avenue and Pebbly Beach Road.
Underwater. Speaking of marine life, Catalina Island's is compelling. You can add a little underwater adventure aboard a glass bottom boat, while snorkeling in Lover's Cove or scuba diving at the Casino Dive Park. No matter how you do it, you'll want to add a photo of a bright orange garibaldi, California's state marine fish.
High above the Harbor. Give your followers an aerial view of Catalina Island with a shot from above. Helicopter tours and parasailing are great ways to soar above it all. If you are bringing a drone, make sure to check local regulations for flying.   
With dinner. For some foodies, taking a food shot is just as appetizing as the aroma of great food. With fresh fish, prime steaks and delectable desserts you'll find plenty of inspiration for shooting what you are about to eat.
At Buena Vista Point. Avalon's most scenic vista is probably this amazing view spot above the Cabrillo Mole, where the Catalina Island ferries dock. You'll need to spend a little effort to get there, but the view – and the photos – are worth it.
At the Summit. Once you enter the Catalina Island Conservancy's protected lands, the seaside resort atmosphere of Avalon slips away, replaced with awe-inspiring natural beauty of this rugged island. One of the first places to see and document that natural beauty is at the Summit, an overlook where the Pacific stretches out before you and – on a clear day – the mountain peaks beyond Los Angeles are visible. A selfie here showcases the island experience.
At the Little Harbor overlook. Catalina Island 's windward side is even more isolated – and beautiful – than its leeward side. High above Shark and Little harbors, this promontory offers roaring surf, dramatic cliffs and a humbling view of the world's largest ocean. This is the perfect spot to use your panorama setting.
On a Bison Tour. In the 1920's 14 bison were transported to Catalina Island for a part in a feature film. They were allowed to stay and have become an integral part of the island. Cared for by the Catalina Island Conservancy, the herd, now around 100 bison, roam wild within Catalina Island's vast wildlands. Several of our island tour companies offer tours of the interior where you can view bison.
On the beach. What's an island vacation without a few shots of your toes in the sand and surf? Catalina Island offers a number of picturesque beaches, including South and Middle beaches in the heart of Avalon; Descanso Beach, just past the Catalina Casino; Harbor Sands in Two Harbors; and the beach at Little Harbor, on the island's windward side. Looking for something a little more secluded? Catalina's coves offer a number of isolated beaches accessible only by boat or kayak. Just don't plan on a live shot, internet and cell service is limited in the island's interior.
At Casino Point. You'll get a great shot of Avalon's charming streets and colorful homes from this spot, which is also one of the best places to capture to sun rising over the sea as well as the full moon reflecting on the water. 
In the Catalina Casino. A trip to Catalina Island isn't complete without a visit to this iconic building; check out the beautiful interior on a tour, with a trip to the movies or at one of the many events that happen in the historic circular ballroom.
At the Wrigley Memorial. High above Avalon Canyon you'll find the Wrigley Memorial and Botanic Garden. Built as an homage to the visionary who had such a dramatic impact on the island, the Memorial features intriguing architecture and a window that perfectly frames a view of the ocean – and is a perfect backdrop for a great Instagram shot.
In a golf cart. One of the most popular things to do on Catalina Island also offers a plethora of picture-worthy opportunities with you and your travel companions.
While shopping. Bay of the Seven Moons, a shop with uniquely inspired hand-crafted jewelry and carefully chosen cultural artifacts, located in the Metropole Marketplace, has the perfect spot for a photo op. Take a shot with their outdoor wildlife; a sealion and a newly acquired whale.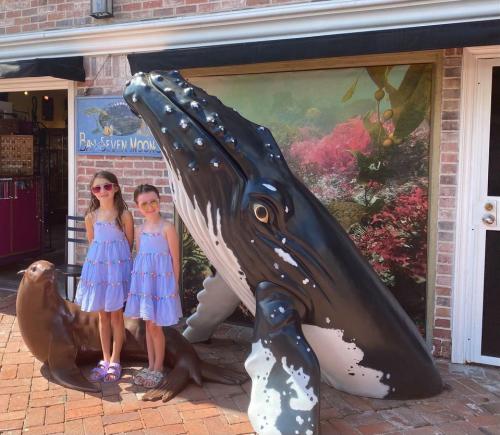 At Avalon's Skate Park. Located behind City Hall on Avalon Canyon Road, the Skate Park's jumps and ramps are adorned with street art perfect for a photo op.
At a public mural. Avalon's newest photo op is located on the backside of the Edgewater Hotel. Created by Artist Kelsey Montague the butterfly wing mural is entitled What Lifts You.