Check out these Catalina Island favorites when you have a craving for pizza!
Antonio's Cabaret & Pizzeria
230 Crescent Ave.
Located on the waterfront overlooking the Avalon Bay with an extensive pizza menu that includes vegetarian and gluten free options. Try the specialty pizza: Pesto Rotisserie Roasted Chicken.
Original Antonio's & Pizzeria
114 Sumner Ave.
Step back into an authentic 50's-style pizzeria and deli at Original Antonio's, located a 1/2 block from the bay. Try the White Veggie Pizza or the Chicken Pizza.
Luau Larry's
509 Crescent Ave.
Known for cocktails like the Wiki Wacker, Luau Larry's also offers fresh made pizza including favorites like the Hawaiian, Vegetarian and Deluxe.
Three Palms Arcade
205 Crescent Ave,
Located in the Metropole Marketplace, enjoy pizza and beer while you try your luck at bowling or high intensity arcade games. Try the Grilled Veggie Pizza, The Club or the Mexican.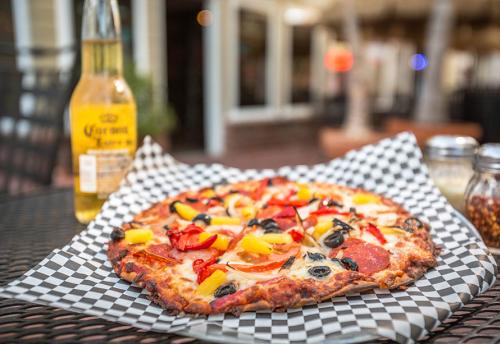 The M Restaurant
205 Crescent Ave.
Overlooking the Avalon Bay, enjoy Hand-Crafted Flatbread at the M Restaurant, including the Italian and the Vegetarian.