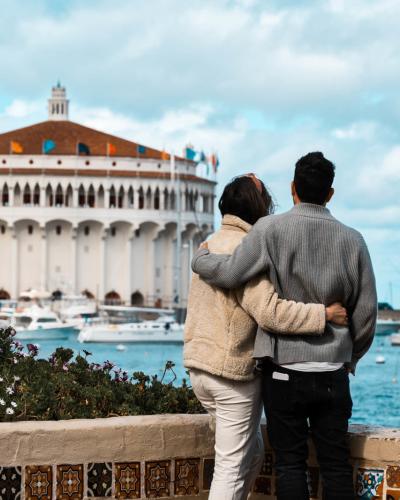 You might call us Catalina super fans, we've been to the island at least a dozen times (and counting) on day trips from Orange County, overnight stays, to multi-day visits. Each time, the island still amazes us and we find something new to experience each time, whether it be a view or vantage point we haven't been to before, a new attraction, or something in the culinary and beverage scene that wasn't here or we didn't have a chance to try on our previous visit.
From the history of the island to its ongoing preservation commitments, we love that Catalina Island will always remain a version of what the Wrigley family intended when the purchased the island for generations to come, something that is a rare find across the gorgeous California coastline that so many want a piece of.
Some of our favorite memories are just walking around the island through the streets of charming beach cottages, the different vistas and viewpoints, and admiring some of the reminders of history and past here all while having our camera ready for a moment or scene that we find inspiration from. Or the time we were introduced to the interior and backside of the island which felt like we were somewhere far away, not 22-miles away from Los Angeles.
And no shame to those who only come on a day trip to the island, but our other best moments include the quiet evenings and early mornings on the island.
Before we re-located to NYC, the last thing we did was take a farewell trip to Catalina Island. Fast forward to this year and the one thing we wanted to do when coming back to California was spend a few days at Catalina and share more stories and inspiration with others to why this is an incredible destination, multi-day getaway, and island getaway to enjoy domestically.
Each time we come and share this special place to our followers and readers we always receive messages about how they didn't realize how beautiful Catalina was, or they didn't realize this was such an easy trip from Southern California, or they are amazed with all the fun historic facts of the island. We've even had people ask us if we made it to the Azores in Portugal and are stunned when we tell them, no this is Catalina Island!
This is a destination we will come back to again and again, and each time we leave loving the island more along with the locals who do such a great job welcoming visitors and sharing their little slice of paradise with people like us.
About Scott & Megan
Scott Herder and Megan Indoe are the award-winning travel bloggers and content creators behind Bobo & Chichi, a travel resource that helps their readers and followers plan their next getaway through detailed guides, itineraries, and visual storytelling through videos and photography. You can find their latest write up and guide on how to spend an unforgettable weekend at Catalina Island.