Catalina Island Hikes, Walks & Trails
Trans-Catalina Trail
The entire Trans-Catalina Trail spans 38.5 miles. Many adventurers hike the trail over 3-4 days staying at various campgrounds along the way; Hermit Gulch in Avalon, Black Jack near Airport in the Sky, Little Harbor on the windward side of the island, Two Harbors Campground in Two Harbors and ending at Parsons Landing at the far west end of the island. Trans-Catalina Trail Map.
Please note: Hiking is not allowed after dark and the wildlife within the Catalina Island Conservancy can cause serious injury.
Catalina Island Conservancy Trails-Catalina Trail Routes & Mileage
Avalon to East Summit - 3.2 miles
Garden to Sky Loop / Hermit Gulch Trail - 4 miles (roundtrip)
East Summit to Middle Ranch Jct - 2.0 miles
Middle Ranch Jct to Black Jack Jct. - 2.7 miles
Black Jack Jct to Black Jack Campground - 1.5 miles
Black Jack Junction to Airport - 2.5 miles
Airport to Little Harbor Overlook - 6.2 miles
Middle Ranch Jct. to Middle Ranch - 4.8 miles
Middle Ranch to Ben Weston Jct. - 2.4 miles
Ben Weston Jct. to Little Harbor Overlook - 2.3 miles 
Little Harbor Overlook to Little Harbor - 1.2 miles
Little Harbor to West Summit - 4.3 miles
West Summit to Two Harbors - 2.5 miles
Two Harbors to Parson Landing - 6.6 miles
Parsons Landing to Starlight Beach - 4.6 miles
The Conservancy outlines the segments of the TCT into 5 Nodes:
Node 1: Avalon to Black Jack
Node 2: Black Jack to Little Harbor
Node 3: Little Harbors to Two Harbors
Node 4: Two Harbors to Parsons Landing
Node 5: Parsons Landing to Starlight Trail
Trekking Catalina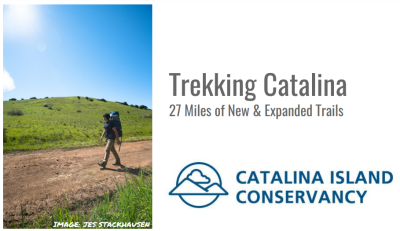 Click the image for descriptions of 17 Trans Catalina Trails.
Trans-Catalina Trail Map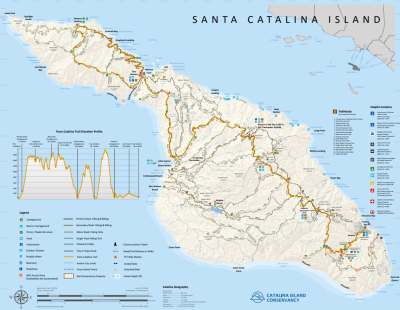 Trans-Catalina Trail by Bring Me
 
---
Avalon Walks, Runs & Hikes
For those wishing to explore on foot, without trekking into the island's interior, there are several easy to moderate routes for runners, walkers and hikers in Avalon.
Country Club Loop/Descanso - Moderate - 1.43 miles
Difficult start uphill but the views of Avalon will make the battle worth it. Then it's smooth sailing back to town.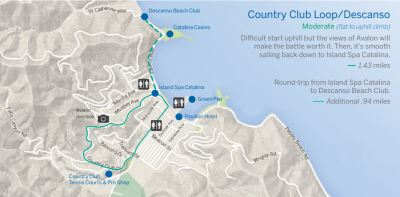 Mt. Ada Loop - Difficult - 3.57 miles
Longest route with steep uphill incline to Mt. Ada on paved road. This route starts out on Pebbly Beach Rd. Take a right up Wrigley Road, and follow to the top as the road winds up the backside of Wrigley Rd. Once at Mt. Ada, follow the road back down the other side of the hill.
Botanical Gardens Path - Moderate - 3.58 miles
Head up Metropole Ave to Avalon Canyon Road, past the Fire Station, Catalina Island Golf Course, Bird Park, Joe Machado Field and Hermit Gulch Campground to the Wrigley Memorial. Please note that there is an entrance fee at the Botanical Garden.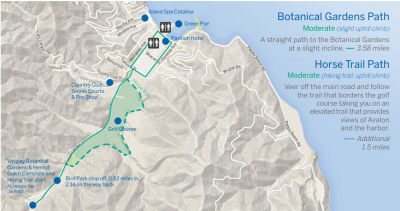 Horse Trail Path Loop / Hour Trail - Moderate - 2.5 miles
The Horse Trail follows the trail formerly used by the Catalina Horse Stables. This is a great morning hike along a dirt road and offers beautiful views on the golf course, Avalon Harbor and Catalina Casino. Head up Metropole Ave to Avalon Canyon, as above, but just across the Hermit Gulch Campground, look for the unmarked trail off the road to the left. Follow the trail up the hill to the left, first passing above Joe Machado Field and then the Catalina Island Golf Course. You'll wind your way around the trail, above the golf course, reaching an end at the Avalon Fire Station.
Catalina Chimes Tower via Hogsback Trail - Moderate - 2.31 miles
Moderate incline through the streets of Avalon; route features a set of stairs and long uphill climb overlooking Avalon Bay, Descanso Beach Club and the Catalina Zip Line Eco Tour.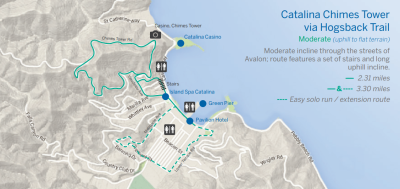 Click here to download the map of described Avalon Hikes/Walks.
Also view easy Avalon City Walks.
Two Harbors Hikes / Walks
If you staying in Two Harbors or visiting for the day, there are several easy to moderate hikes and walks to you to explore. Stop by the Two Harbors Visitor Center at the foot at Isthmus Pier for directions and guidance.
Upper Ballast Point Out & back - Moderate Uphill - 4 miles
Head out of Two Harbors, past Buffalo Park and the schoolhouse, take a left in front of the Isthmus Yacht Club and continue up the road past Banning House Lodge. Continue heading uphill bearing to the the right. Soon you'll see the backside of Catalina Island. Make your way to the top of the hill and relax at the Catalina Harbor overlook.