2022 Guide Information, Rates & Specs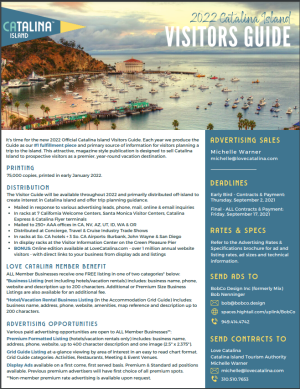 It's time for the new 2022 Official Catalina Island Visitors Guide. Each year we produce the Guide as our #1 fulfillment piece and primary source of information for visitors planning a trip to the island. This attractive, magazine style publication is designed to sell Catalina Island to prospective visitors as a premier, year-round vacation destination. This year's printed piece will be produced by BobCo Design Inc. (formerly Mix Marketing) and will reflect the look and feel of our Love Catalina Brand. 
Every Love Catalina member business will receive a FREE business directory listing in the Guide, with additional paid advertising opportunities available. 2022 advertising rates are the same as the printed 2020 Visitors Guide (we produced a digital only version for 2021). 75,000 Guides will be printed and distributed on and off-island beginning in January 2022. The Guide will also be available online, with direct links to your business.
IMPORTANT DATES
The Early Bird reservation deadline for Display Ads is next Tuesday, September 7 (extended from 9/2). The final deadline for ALL contracts and artwork has been extended to Friday, September 24, 2021. 
Listing and advertising information has been emailed to all members and included in the Thursday Update. If you would like to received a printed packet, please contact Michelle, michelle@lovecatalina.com or stop by the Love Catalina Visitor Center on the Green Pleasure Pier. All files may also be download below.
2022 VISITORS GUIDE FILE DOWNLOADS
The 2022 Visitors Guide information one-sheet, all contracts (free and paid) and the rate & specifications card may be downloaded and printed using the links below.
Visitors Guide Info Sheet (all members)
Rate Card & File Specs (all members)
2022 Visitors Guide Member Packet - (contains all contracts below, you can download and print the full packet or choose just the contracts you need):
View your previous listings and ads in the 2021 Digital Visitors Guide online.
QUESTIONS
Please contact Michelle Warner michelle@lovecatalina.com if you have any questions regarding advertising or your listing(s).
---
DISPLAY ADS
Ad Size Specifications Full Page:
7.375" x 9.875", Bleed 8.625" x 11.125", Trim 8.375" x 10.875"
2 Page Spread: Bleed 17" x 11.125", Trim 16.75" x 10.875"
2/3 Page: 4.8125" x 9.875"
1/2 Page: 7.375" x 4.875"
1/3 Page Vertical: 2.3125" x 9.875"
1/3 Page Square: 4.8125" x 4.875"
1/6 Page: 2.3125" x 4.875"
BUSINESS DIRECTORY & GRID GUIDE LISTINGS
Business Directory Listings - 200 characters max
Additional Business Directory Listings - 200 characters max
Premium Business Directory Listings - 400 characters max
Accommodations Grid Guide Listings - copy: 200 characters max + amenities & map
Premium Formatted Listings (hotels/rentals only) - 400 characters max + one image
Activity Grid Guide Listings - land/air & water categories
Dining Grid Guide Listings - dining options & amenities
Meeting & Event Grid Guide Listings - meeting facilities
THE FINE PRINT The publisher and its authorized agents are not responsible for errors, omissions or inaccuracies in information provided by the advertisers. The publisher or its authorized agents shall not be liable to the advertiser making the "Listing" for delays in publications or damages resulting from failure to include all or any of said listing or advertising in the Guide or from errors and omissions in the listing or advertising in the Guide in excess of the agreed upon price for such listing or advertising for the issue in which the error or omission occurs. Liability for any errors or omissions made in the "Free Listing" will be limited to no more than the equivalent cost of a second "standard" listing.
The publisher reserves the right to reject any advertisement or to request alterations in content prior to publication if said advertisement does not conform to the publication's standards. Display ads may not contain coupons. Advertorials are not allowed on premium pages, but are allowed elsewhere with publisher's permission. Advertisers and/or advertising agencies assume liability for all content (including text, representations, illustrations, trademarks or other copyright matter) of advertisements printed, and also assume responsibility for any and all claims arising therefrom. Publisher: Love Catalina, Catalina Island Tourism Authority, P.O. Box 217, Avalon, CA 90704, Telephone: 310-510-1520. Production & Design Agency: Mix Marketing.