Toolkit
California Roadmap
   
LA County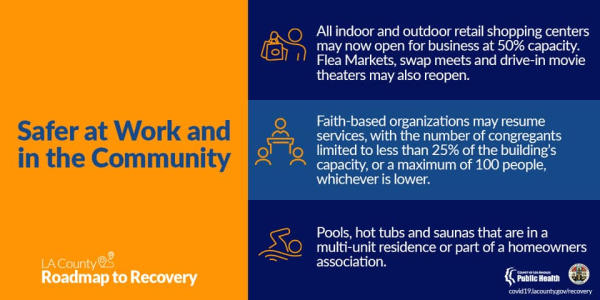 The new Health Officer Order issued Tuesday, May 26, called Safer at Work and in the Community, allows for the reopening of houses of worship, office worksites, in-store shopping at retail establishments, including indoor malls and shopping centers, flea markets, swap meets and drive-in movie theaters. Houses of worship can operate at 25% capacity or with a maximum of 100 people, whichever is lower, and retail establishments can operate at 50% capacity. Pools, hot tubs and saunas that are in a multi-unit residence or part of a homeowners' association can also open. Political protests with limited numbers of participants are also allowed. This Order aligns the County with the State's Orders. Everyone must continue to follow distancing and infection control protocols and wear a clean cloth face covering that securely covers both your nose and mouth when in contact with other people not in your household. Public and private gatherings of any number of people outside of a single household unit are still not permitted except for public protests and faith-bases services as described in the Order. The Health Officer Order continues to require specific higher-risk businesses to remain closed and prohibit dining in at restaurants. Restaurants are still allowed to serve food to customer via delivery, take-out or drive-thru.
LA County is in stage two of the five-stage Roadmap to Recovery and until the final stage five is reached, Health Officer Orders and directives will continue to ensure that we slow spread of COVID-19 to prevent an overwhelming surge of COVID-19 cases at healthcare facilities. The Health Officer Order, COVID-19 Surveillance Interactive Dashboard, Roadmap to Recovery, Recovery Dashboard, and additional things you can do to protect yourself, your family and your community are all found on the Public Health website: publichealth.lacounty.gov.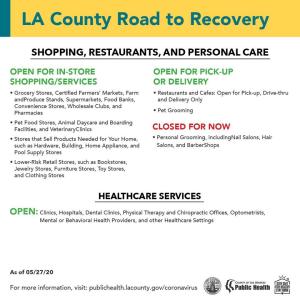 LA County Roadmap to Recovery (PDF)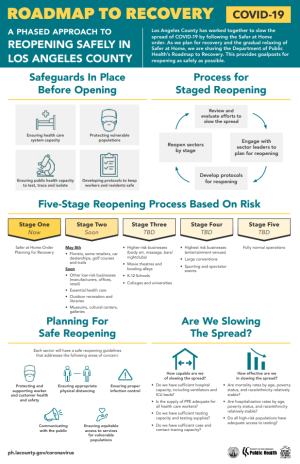 California will move into Stage 2 of modifying the state's Stay-at-Home order on May 8, 2020. Our progress in achieving key public health metrics will allow a gradual re-opening of California's economy.
Stage 2 is LOW RISK WORKPLACES
Can open with modifications
Curbside retail, including but not limited to: Bookstores, jewelry stores, toy stores, clothing stores, shoe stores, home and furnishing stores, sporting goods stores, antique stores, music stores, florists. Note: this will be phased in, starting first with curbside pickup and delivery only until further notice.
Supply chains supporting the above businesses, in manufacturing and logistics sectors
Can open later in Stage 2:
Destination retail, including shopping malls and swap meets.
Personal services, limited to: car washes, pet grooming, tanning facilities, and landscape gardening.
Office-based businesses (telework remains strongly encouraged)
Dine-in restaurants (other facility amenities, like bars or gaming areas, are not permitted)
Schools and childcare facilities
Outdoor museums and open gallery spaces
Industry Guidance to Reduce the Risk & Checklist by Industry
If you don't see your industry in the above list, click to visit the CA.GOV Roadmap website.
NOT IN STAGE 1 OR 2: HIGHER-RISK WORKPLACES (not opening at this time)
Personal services such as nail salons, tattoo parlors, gyms and fitness studios
Hospitality services, such as bars and lounges
Entertainment venues, such as movie theaters, gaming facilities, and pro sports
Indoor museums, kids museums and gallery spaces, zoos, and libraries
Community centers, including public pools, playgrounds, and picnic areas
Religious services and cultural ceremonies
Nightclubs
Concert venues
Festivals
Theme parks
Hotels/lodging for leisure and tourism
Social Distance Protocol
Businesses opening for Stage 1 or 2 must post a SOCIAL DISTANCING PROTOCOL at their business. Businesses must implement all applicable measures listed on the Social Distancing Protocol and be prepared to explain why any measure that is not implemented is inapplicable to the business.
CDC
Recommendations based on the following questions: Should you consider opening? Are recommended health and safety actions in place? Is ongoing monitoring in place?
---
Other Resources
---
US Travel Association
U.S. Travel Association Industry Guidance for Promoting the Health and Safety of All Travelers online Toolkit.
This builds upon and aligns with the White House and CDC guidelines for "Opening Up America Again."
Travel in the New Normal
The guidance focuses on six key areas, with suggested approaches outlined under each (view full guidance here):
Travel businesses should adapt operations, modify employee practices and/or redesign public spaces to help protect employees and customers.
Travel businesses should consider implementing touchless solutions, where practical, to limit the opportunity for virus transmission while also enabling a positive travel experience.
Travel businesses should adopt and implement enhanced sanitation procedures specifically designed to combat the transmission of COVID-19.
Travel businesses should promote health screening measures for employees and isolate workers with possible COVID-19 symptoms and provide health resources to customers.
Travel businesses should establish a set of procedures aligned with CDC guidance should an employee test positive for COVID-19.
Travel businesses should follow best practices in food and beverage service to protect the health of employees and customers.