Face Coverings & PPE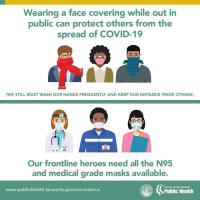 Because it is possible to spread COVID-19 days before a person is symptomatic, wearing a face covering while you are out of your home will help reduce the spread of this virus.
The federal government has now recommended the use of these masks by the general public, but our LA County Public Health Department stresses that you SHOULD NOT purchase or use an N95 or other similar medical-grade mask. Those are in limited supply and must be reserved for our healthcare workers only. Wearing a mask is also not a substitute for safe social and physical distancing.
Fortunately it is easy to make a face mask or covering at home with materials from around your house. There are both sew and no-sew methods available.
*Please note*
Children under age of 2 should NOT wear cloth face coverings. Those between ages of 2-8 should use them under adult supervision to ensure that the child can breathe safely and to avoid choking or suffocation. Children with breathing problems should not wear a face covering.
How to Make Your Own Mask (video link)
LA County Department of Public Health Guidance for Face Coverings - updated 4/10/20
CDC Recommendation Regarding the Use of Cloth Face Coverings
CDC How to Make Your Own Face Covering (video link)
How NOT to Wear a Mask
Wearing a face mask takes some getting used to. To get the most benefit, you need to avoid these common mistakes. Please click here to read an article published in the New York Times "How NOT to Wear a Face Mask."
LOCAL SOURCES FOR FACE COVERINGS, MASKS, PPE & SUPPLIES:
Leo's Catalina Drugstore has been working tirelessly to source affordable products and has surgical masks in stock for purchase. 310-510-0189
Chet's Hardware has surgical masks available for purchase, packs of 3 or 50. Also hand sanitizer and bleach are both available. 310-510-0990
Bay of the Seven Moons has hand sanitizer available. FDA/WHO/OSHA approved, made with 80% ethyl alcohol. 310-510-1450. 
We would also appreciate any information regarding reliable and reasonable off-island suppliers that you may have found for ordering large quantities of PPE.
Click to read Strategies to Optimize the Supply of PPE.