Catalina Express
We highly recommend making a reservation at least 24 hours prior to departure, so that a vessel with the appropriate capacity to allow for physical distancing can be scheduled.
>>Book a Reservation on Catalina Express<<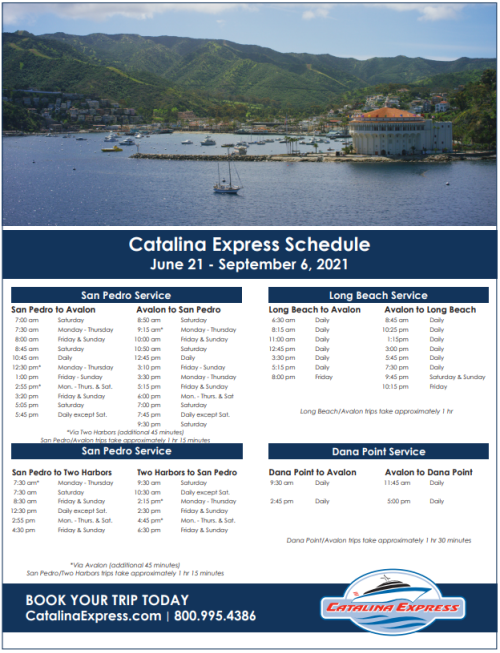 ---
*In response to the City of Los Angeles Worker Protection Order, all passengers and employees are required to wear a face covering or mask when in the terminals or on board the vessels.
Catalina Express Travel Alert: The Los Angeles Public Health Department has directed Catalina Express to close onboard galleys. Catalina Express continues to require everyone wear their mask while in the terminal, waiting to board and the entire trip on the vessel. Commodore Lounge seating that has been booked will be refunded upon checking in and treated as general seating until further notice.
Please visit Catalina Express' Know Before You Go page for details about what's required and what to expect on your journey to Catalina Island.
---
Statement from the Catalina Express

The safety and security of our passengers and employees are the top priorities of Catalina Express. We have taken extra precautions during this time based on the guidance of the County of Los Angeles, Centers of Disease Control (CDC) and other local health departments.

For the past several months, we have implemented an enhanced cleaning process. While the cleaning process of our terminals and vessels has always been robust, we have taken steps to invest in stronger disinfectants and continue to evaluate our cleaning procedures. High touch surfaces in the terminals, vessels and offices such as door knobs, handles, check-in counters, arm rests, seat trays and handrails will be wiped down with disinfectant on a frequent basis. We are reinforcing training procedures to ensure cleaning processes are conducted properly by our employees. Catalina Express also offers hand sanitizers at our ticket windows and before boarding the vessel. 

Following County of Los Angeles guidelines, passengers are required to wear a face covering or mask that cover their nose and mouth while in the terminal, waiting in line to board and on board the vessel. Our teams are also all outfitted with masks, gloves and safety glasses.

Catalina Express has temporarily reduced capacity for general seating and the Commodore Lounge to allow for distance between passengers. The crew will be assisting passengers by assigning seats to allow for physical distancing. Please indicate to a crew member if you and your family are traveling together.
Please visit the Catalina Express website for a complete list of precautions we have taken during this time. We will continue to monitor and re-evaluate our procedures, policies and operations as necessary and appreciate everyone's cooperation.