Hotel Metropole
Gregg Miller - owner and operator of the Hotel Metropole and the Metropole Marketplace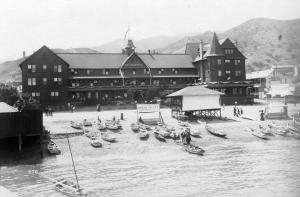 The original Hotel Metropole was built in 1887 shortly after George Shatto bought Catalina Island. It was the first and only hotel on the island and was part of Shatto's initial plan to turn Avalon into a visitor destination. The hotel was the center of Avalon and over the years, businesses sprouted up all around it. The Hotel Metropole burnt down in the early morning hours of November 29, 1915 in a fire that devastated half of Avalon. 
In 1958, when Gregg Miller was just 6 years old, his father, Gordon Miller, acquired the Metropole Marketplace and the adjacent lot, where the Hotel Metropole stands today, and where the original Hotel Metropole stood. During that time, the Metropole Marketplace was a mish mash of stores and businesses, including a boat storage and trampoline zone. A young Rick Ralston, founder of the popular Crazy Shirts clothing chain, operated a shop airbrushing towels and t-shirts in the back of the Marketplace. The Marketplace also included an arcade, just as it does today, and Gregg, who considered himself to be a pinball wizard, could spend hours playing on just one nickel. Gregg has fond memories of he and his brother taking their little red wagon down to the steamship pier to help guests arriving into Avalon with their luggage, earning big tips. And of diving for coins as the steamship pulled up to the pier. Gregg and his family would spend summers on the island playing while dad worked.
In 1975, Gregg joined the family business. He and his father worked together to open a full service upscale restaurant called the Channel House Restaurant, where the M Restaurant space stands today. In 1982, they put together plans for a reimagined Metropole Marketplace and Hotel Metropole. The marketplace opened in 1984, the hotel followed in 1990. The Hotel Metropole offers 52 rooms with a relaxed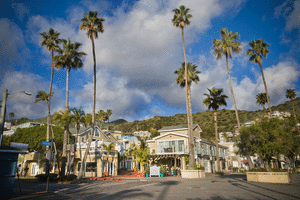 casual elegance vibe. The Marketplace is home to 20 tenants including shops, cafes, salons and a yoga studio.
Originally raised in Santa Monica, Gregg operated his business from the mainland for many years, making frequent visits to the island, before deciding to move full time to Avalon in 2008.  He operates the business with life partner Sana, who was born and raised in Avalon, and is a true "Islander." 
When asked what he loves about Catalina Island, Gregg notes some highlights like not having a stop light on the island, not having to drive a car, being near the water and nature. As well, the community is extremely warm, friendly and kind. There's always someone to lend a helping hand.
In honor of their parents, Gregg and his siblings dedicated three murals, painted by RTK Studios, along Casino Way to "all who love Catalina Island."
$10 Off Catalina Island Ferry
Hop onboard the Catalina Flyer for daily ferry service from Newport Beach to Avalon, Catalina Island in just over 1 hour.
Online reservations are now open!
A sparkling night of evening gowns, tuxedos, champagne, dining and dancing on Sunday, December 31 in the world-famous Casino Ballroom.