Fun-filled summer season features a concert series, unique movie experiences, and more on beautiful Catalina Island
From water sports and thrilling aerial adventures to beachfront lounging and soaking up incredible scenic views, Catalina is an idyllic retreat for travelers who want to slow down and enjoy life on island time. Love Catalina Island Tourism Authority is pleased to announce a multitude of lively events, activities and business updates for the summer season.
Independence Day Celebrations: July 2-4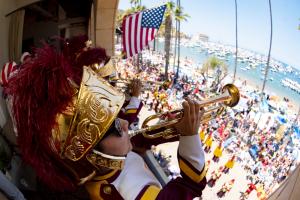 Catalina Island is host to an Independence Day Celebrations like no other. Join us for a day of fun on July 4 in Avalon that includes the USC Marching Band, Golf Cart Parade, Dinghy Parade and Fireworks Show. Visitors can also enjoy festivities in Two Harbors on July 2 including a Children's Festival and Dinghy Parade, followed by a Fireworks Celebration on July 3. View full schedule.
3rd of July BBQ
Hop up to Airport in the Sky Restaurant for a 3rd of July BBQ featuring eat food, cold drinks, games and awesome views! Need a ride? Check Wildlands Express Shuttle.
Two Harbors Fireworks: July 3
Catch the Two Harbors Fireworks Show on July 3. Guests in Avalon can hop aboard the Cyclone power boat at the Green Pleasure Pier or the Bus Experience from Avalon and be in Two Harbors in time for the annual fireworks spectacular. 
Avalon Fireworks Harbor Cruise: July 4
Enjoy Catalina's historic fireworks show from Avalon Bay. Board the Cyclone power boat and head out on the water for a unique perspective of Catalina's historic 4th of July fireworks celebration. You'll be right in the middle of the action, as the rocket's red glare and bombs bursting in air light up the nighttime skies over Avalon Bay. Book here.
Catalina Island Concert Series: July 15, August 19 and September 2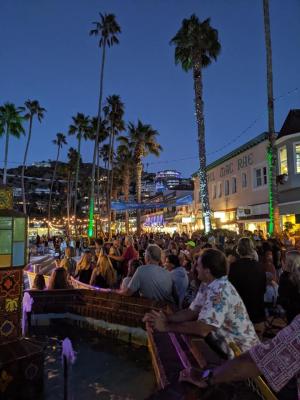 In partnership with Xceptional Music Company, the family-friendly Catalina Island Concert Series returns for another summer of incredible live music at Wrigley Stage. Concerts are held from 8 p.m. to 10 p.m. with a 21+ beer, wine and spirits garden located adjacent to the stage featuring raffle and prize opportunities throughout the evening. This year's lineup includes:
Venice with the Pine Mountain Logs (July 15) – Americana pop harmonies influenced by The Beach Boys, Eagles and CSN.
Mick Adams & the Stones (August 19) – A live, multi-media spectacle that takes you on a musical journey through the career of Rock and Roll's most celebrated bands
Xceptional Tribute to ABBA (September 2) – A fan-favorite performance highlighting the best of ABBA.
Two Harbors Wine Fest: July 8
Taking place on the beach in beautiful Two Harbors, the Two Harbors Wine Fest has become one of most popular events in the west end. Complete with a silent auction, live music, complimentary appetizers, and tastings of all participating wineries, this is a festival you won't want to miss.
SEASONAL TOURS:
Flying Fish Voyage
This popular seasonal tour from Catalina Island Company is back for the summer, giving visitors an up close and personal nighttime experience aboard the Cyclone boat as guests cruise along the coast in search of Catalina's world-famous marine aviators. The boat is equipped with a powerful searchlight that entices the fish to take flight and soar across the surface of the sea. To book tickets, visit the website here.
Cyclone Power Boat to Two Harbors
Transportation between Avalon and Two Harbors via the Cyclone, a seasonal high-speed power boat has resumed daily services. The 40-minute boat ride is the fastest way to travel between the two locations, providing visitors an opportunity to explore both ends of Catalina in the same day. The boat departs from the Green Pleasure Pier in Avalon for an exciting cruise along the stunning Catalina coast. Tickets are $18 each way and can be purchased online here.
SEASONAL OFFERINGS:
Beach Days: Mondays
The City of Avalon will host Beach Days on Mondays from 11 am to 3 pm through August 28. Swim with mermaids, take out a kayak and participate in beach games.
Movies on the Beach: Wednesdays through August 
The City of Avalon will host Movies on the Beach on South Beach every other Wednesday from June 21 to August 23. Films begin at 7 p.m. and snacks and refreshments are available for purchase. Visitors are encouraged to bring their own chairs or blankets. The full movie lineup, featuring family-favorites like "Wall-E" and "Lilo & Stitch", can be found here.
Summer Beach Bingo: Through August 24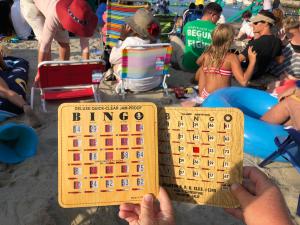 Every Tuesday and Thursday from 6 p.m. to 7 p.m., families can enjoy a game of bingo right on the sand. Located on South Beach, visitors can bring a beach chair or towel and play for a chance to win fun local prizes. Bingo cards are $1 each.
Kids Fishing Derby: Through August 23
Every Wednesday from 7 a.m. to 9 a.m., kids can participate in a free fishing derby presented by the City of Avalon. Kids can purchase or rent equipment and get bait from Joe's-Rent-A-Boat on the Green Pleasure Pier. Prizes are awarded every week following the derby. Bait and gear are also available on the pier. 
Fitness Fridays: Through August 25
Meet at Kids Park for Fitness Fridays from 9 am to 12 pm and take part in a variety of fitness classes from Zumba, to Stretch, Weight Lifting and Boxing. Presented by the City of Avalon.
Art in the Park: Saturdays Through August 26
Meet at Kids Park on Saturdays from 11:30 am to 3 pm and take part in Art in the Park. Come and let your creative side out.
Sunday Wellness: Through August 27
Join us every Sunday at Avalon City Park as a variety of licensed instructors lead Sunday Wellness including yoga, sound healing and more.
ARTS & CULTURE:
Avalon Theatre & Catalina Casino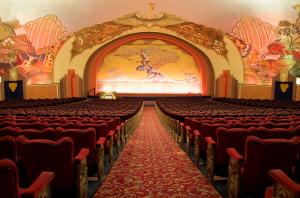 The Avalon Theatre marked its one year re-opening annivarsary on June 16. The Theatre features current and classic films on Friday and Saturday evenings. The traditional moviegoing experience invites the audience into the theatre an hour before every film for a vintage-style preshow where guests can enjoy an extra hour of entertainment while soaking up the Casino's stunning art deco interior and ambiance. 
The Catalina Casino is now open daily for general admission, 7 days a week from 10 am to 5 pm (with the expection of special events). Visitors are invited to meander through the historic building at their own pace and visit the Avalon Theatre, the mezzanine and marine bar, the iconic ballroom and the ocean air promenade. In addition, a VIP Backstage guided tour is also available. More info.
BUSINESS UPDATES:
Campus by the Sea
The Only Oceanfront Christian Camp in California! Located beachfront on Catalina Island, Campus by the Sea is a popular Christ-centered camp and retreat center that has transformed lives for Christ for more than 70 years. All camps and retreats include meals, lodging, and a broad range of activities, whether you vacation with your family at Family Camp, bring your youth group to our Summer Youth Camp or plan a retreat with your school, church, or ministry. campusbythesea.org
Catalina Cones
Ice Cream in Paradise, Catalina Cones is serving the finest ice creams using grass-grazed milk & cream, local, and organic products. Stop in for a Catalina Split or Avalon Dip! Located on Pebbly Beach Rd. catalinacones.com
Flx Biergarten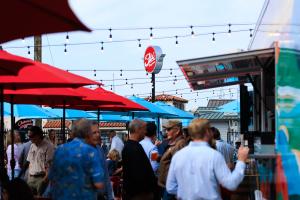 Now Open! Prepare yourself for a unique and memorable experience at Flx Biergarten, the island's first and only biergarten located in Avalon! Paying homage to the island's rich history, Flx takes its name from the iconic '50s Flxible buses that carried curious tourists on the streets of Avalon and along the island's interior. With an open-air atmosphere that includes charming string lights and cozy firepits, Flx Biergarten is the perfect place to enjoy a cold beer, wine, seltzer or kombucha with friends. Plus, beer lovers can sample a variety of styles with tasty beer flights. 
Hamilton Cove Catalina
This modern, 2-bedroom villa is located at Hamilton Cove and offers free WIFI, flat screen tv, washing machine and a fully equipped kitchen. hamiltoncovecatalina.staydirectly.com
Leyva's Electric Bike Rentals
Experience the best activity Catalina has to offer by booking the only Eco E-Bike Tour on Catalina Island. Explore the interior of Catalina where you will discover natural beauty found nowhere else on Earth. The roaming bison and unique fauna make the interior a must visit place. leyvaselectricbikerentals.com
Vintage Vessel Voyages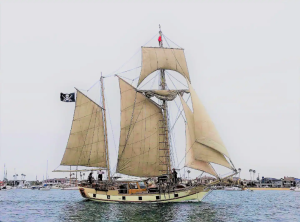 Set sail aboard Catalina's own pirate ship! Glide along the coast, enjoying the beautiful coastline from Mayflower's spacious deck, with her captain and crew acting as your private guides. Simply sit back and enjoy the sail or learn about traditional sailing and the island's history from Captain Andrew and his buccaneering crew! Now offering half-day and full-day sailing adventures for up to 6 passengers! Book via our website or call Quartermaster Missy today! 
TRANSPORTATION UPDATES:
Catalina Flyer
After a brief hiatus, the Catalina Flyer from Newport Beach is back in service. The high speed ferry offers three daily roundtrips between Newport Beach and Avalon.
Catalina Express Summer Schedule
Catalina Express has expanded its schedule from its three convenient ports in San Pedro, Long Beach and Dana Point to nearly 30 ferry departures daily. Visitors can plan their stay on the island with a variety of boat and hotel packages featuring round-trip transportation on Catalina Express, overnight accommodations at one of Catalina's top hotels and variety of other additional amenities. For more information or to book your trip, visit the website here.