Catalina Island welcomes the warmer months with an array of new offerings and seasonal events this spring. Boat-side deliveries, renovated rooms, new menus and more.
Newly Renovated Rooms at Hermosa Hotel – Located just steps away from the water, the Hermosa Hotel has refreshed its "Family Unit" rooms, updating everything from the kitchen, furniture, beds, and linens. These rooms are perfect for accommodating four to five guests. Hermosa Hotel has also partnered with the Catalina Museum for Art & History to incorporate vintage photos of the island into the décor as a nod to the hotel's rich 126-year history. Each room is unique, please call the hotel to book the best room for your island getaway.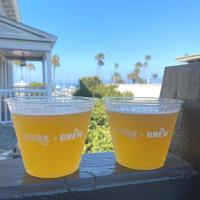 Cork + Brew Bar at Hermosa Hotel  – Cork + Brew Bar at Hermosa Hotel has reopened its doors just in time for spring break. Visitors can once again enjoy the bar's craft beer and wine selection, including a variety of regional craft brews from Ballast Point and Coronado Brewing, along with a "Create Your Own Wine Flight" option featuring the best of Daou wines. Visitors can also enjoy weekly trivia every Tuesday from 7 – 9 p.m. 
Happy Hour - The happiest hour of the day is back at many of our island restaurants and bars including M Restaurant, The Cove Bar & Grill, El Galleon, Antonio's Cabaret and Coyote Joe's. Enjoy cocktails and food specials as you contemplate the rest of your day on Catalina Island!
Vegan-Friendly Menus at Steve's Steakhouse – Diners looking for vegan dining options on the island can head to Steve's Steakhouse and enjoy a number of dishes from its new vegan-friendly menu, including Cauliflower Steak with a special vegan sauce and cheese; a Black Bean Chipotle Burger; or the Impossible Burger featuring a plant based patty, lettuce and onion.
Catalina Coffee & Cookie Co. also introduced vegan options to its expansive menu, including a Chocolate Sprinkled Baked Vegan Donut, Churro Organic Baked Vegan Donut, Vegan Best Brownie Ever, plant-based JUST Egg, vegan cream cheese, vegan sausage, and more that can be added to menu items.
Dockdash Boat Side Delivery – Avalon Bay boaters never have to leave the comfort of their boat with this all-new boat side delivery service. With a variety of beverages and snacks to choose from, Dockdash features beers, seltzers, wine, mimosa buckets, chips, trail mix, ice cream and more. To place an order, view the menu online and call 310-510-0046.
Pier-side Fishing from "Learn to Fish….Hook, Line and Sinker" – Great for beginners, kids or adults, learn to fish like a pro with dock-side fishing lessons off. No equipment or prior experience is necessary – rod, tackle and bait are provided!
Catalina Museum for Art & History opens Norman Rockwell Exhibit – The Catalina Museum for Art & History has welcomed the Norman Rockwell in the 1940s: A View of the American Homefront exhibition. On view March 5 – October 2, 2022, the exhibit features Rockwell's interpretation of the effects of World War II on servicemen and women. Tickets are free for museum member and $5 for the general public.
Upcoming Events
Catalina Island events are back after pandemic postponements.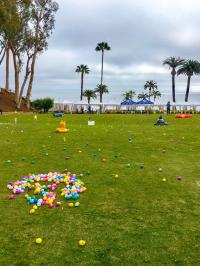 10th Annual Catalina Spring Art Fair & Craft Festival - Now in its 10th year, this fun, free family event happens over Easter Weekend, April 15-17, along the Avalon waterfront. Enjoy arts & crafts from local and regional artisans, as well as demonstrations, food booths and activities.
Community Easter Egg Hunt - Hop on over to Descanso Beach Club on Saturday, April 16 to enjoy a community Easter Egg Hunt organized by the City of Avalon. Bunny photo ops, egg hunt, prizes and more.
Easter Sunday at Two Harbors - Hop on over to Two Harbors on Sunday, April 17 for the annual Two Harbors Easter Egg Hunt, and have your little ones search for the elusive "Golden Egg." Sponsored by Corsair Yacht Club.
26th Annual Catalina Island Conservancy Ball - Dust off your tuxedos and ballgowns! Stow your bunny slippers and don your dancing shoes! Let's celebrate together on April 23rd at the 26th Annual Catalina Island Conservancy Ball, the kick-off of the 50th anniversary of the Catalina Island Conservancy.
Spring Fest – Organized by the City of Avalon, the Annual Spring Fest celebration will be held on April 28 from 5 to 9 p.m. The beloved community festival features food, games and fun for visitors of all ages.